Bonus content from the February 2012 REPTILES magazine article "Leaping Lizard."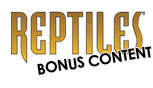 To learn more about the leopard lizards that Robert George Sprackland wrote about in the February 2012 issue of REPTILES magazine, check out some of his references:
Bartlett, R., and P. Bartlett. "Guide and reference to the turtles & lizards of Western North America (north of Mexico) and Hawaii." 2009. University Press of Florida, Gainesville.
Degenhardt, W. G., C. Painter, and A. Price. "Amphibians and Reptiles of New Mexico." 1996. University of New Mexico Press. Albuquerque.
Grismer, L. "Amphibians and Reptiles of Baja California, including its Pacific Islands and the Islands in the Sea of Cortés." 2002. University of California Press, Berkeley, California.
Jercinovic, Gene. N.D. William Gambel: "New Mexico Plant Specimens." newmexicoflores.com/william_gambel.pdf
Jones, L., and R. Lovich (eds). "Lizards of the American Southwest." (n.d. – 2009?). Rio Nuevo, Tucson.
Lappin, A. K., and Michael German. "Feeding behavior modulation in the leopard lizard (Gambelia wislizenii): Effects of noxious versus innocuous prey." Zoology, 108(4):287-295. 2005.
McGuire, Jimmy. "Phylogenetic systematics of crotaphytid lizards (Reptilia: Iguania: Crotaphytidae)." Bulletin of Carnegie Museum of Natural History, 32. 1996.
Mitchell, J. C. "Observations on the ecology and reproduction of the leopard lizard,
Gambelia wislizenii (Iguanidae), in southeastern Arizona." Southwestern Naturalist
29:509-511. 1984.
Moll, Edward. III. "Gambelia wislizenii (Baird and Girard, 1852) Long-nosed leopard lizard." Sonoran Herpetologist, 16 (7). 2003.
Schorr, Robert and Brad Lambert. Longnose leopard lizard (Gambelia wislizenii) home range and habitat use on Cannonball Mesa, Colorado. 2006. cnhp.colostate.edu/download/documents/2006/LongnoseLeopardLizardReport.pdf
Smith, Hobart. 1946 (1995). "Handbook of lizards: Lizards of the United States and of Canada." Comstock Classic Handbooks, Ithaca, NY.
Sprackland, Robert. "Pocket Expert Guide to Lizards: 300+ Essential Species." TFH Publications, Neptune, NJ. 2010.
Stebbins, R.C. "A Field Guide to Western Reptiles and Amphibians, Third Edition." Houghton Mifflin Company, Boston, MA. 2003.
Steffen, J. E., and R. A. Anderson. "Abundance of the longnose leopard lizard (Gambelia wislizenii) is influenced by shrub diversity and cover in southeast Oregon." American Midland Naturalist, 156:201-207. 2005.
Kamelia Fallahpour's research at csun.edu/~ree77914/fallahpour.html