Called the Exotic ARC for short, the Exotic Amphibian and Reptile Center has focused on captive-breeding projects for more than 25 years. They&rsqu
Called the Exotic ARC for short, the Exotic Amphibian and Reptile Center has focused on captive-breeding projects for more than 25 years. They've been a retail store for more than 17 years. As owner James Brumley and his wife, Gail, like to say: "We believed in going green before most people ever heard of the idea."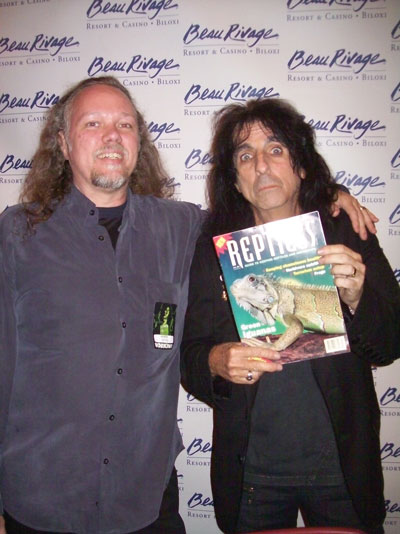 Store owner James Brumley and Alice Cooper after a concert. Cooper uses Exotic ARC boas on tour for his concerts throughout the United States.
By encouraging people to purchase quality, captive-bred animals, the Brumleys continue to do their part in discouraging the decimation of wild populations. Thanks to their breeding projects, customers have a variety of animals available without ever needing to resort to wild-caught specimens. In fact, their breeding has become so successful that in 2011 they produced more than 4,000 reptiles. They hope that by the end of 2012, they will have topped that number.
As one of the most extensively stocked reptile stores in the Midwest, the Exotic ARC offers customers the largest selection of supplies to keep animals happy and healthy. Even rock star Alice Cooper has become a client.
"We've been supplying him with boas for his U.S. tours ever since his representative first came into the store in 2010," Brumley said. "This gave us the chance to meet Alice several times and see lots of his concerts. Definitely the coolest job so far."
In addition to interesting clientele, the Exotic ARC's reputation for quality has helped the business thrive. Brumley is dedicated to teaching his clients how to be good pet owners, and he encourages people to build naturalistic vivariums for their animals to enhance their quality of life.
"We are different from other stores in that so many of the animals we sell are bred by us or our friends," Brumley said. "We want our store to be known for quality and excellent customer service." REPTILES
Go Here: Exotic Amphibian and Reptile Center
343 Lemay Ferry Rd., St. Louis, MO 63125
314-631-7272; exoticarc.com
Advertisement