Florida Senator Bill Nelson joins hunt for Burmese pythons.
In spite of the hype, and news that Democratic Sen. Bill Nelson of Florida joined the more than 800 people who signed up for the "Python Challenge 2013," as of January 22, just 27 Burmese pythons (Python molurus bivittatus) have been captured and killed during the competition. The Python Challenge, which began Jan. 12 and ends Feb. 10 is a hunting contest designed to remove invasive Burmese pythons from the Florida Everglades. It was conceived by Florida Gov. Rick Scott in an effort to raise public awareness of the invasive snake and to cull as many as possible from Florida's ecosystem.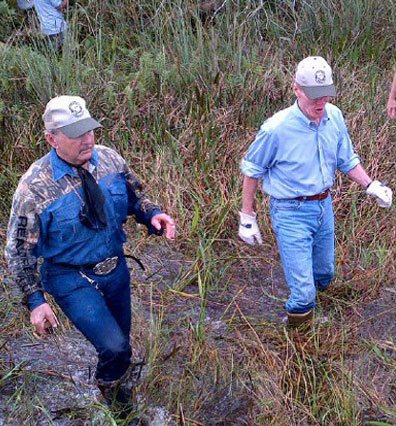 Advertisement
Photo by Senate Staff
Florida Fish & Wildlife Commissioner, Ron Bergeron, left, and U.S. Sen. Bill Nelson, D-Fla., hunt for pythons in the Everglades.
Nelson, who spent a day last week with Florida Fish & Wildlife Commissioner Ron Bergeron looking for pythons, was unsuccessful in finding one. "Pythons proved to be elusive in the warm weather. None caught today," Nelson's Twitter feed said Jan. 17.
The captured snakes are currently being examined by researchers with the University of Florida, giving the researchers information on the diets of these animals, as well as age, sex, genetics, and other characteristics. The hunt will also give researchers clues as to where the snakes can be found and what time of day they were captured, and what the weather was like on that particular day. Once the scientists are done examining the reptiles, the hunters who captured them will get to keep the skins. The hunter who captures the largest python will be awarded $1,000 while the hunter who captures the most pythons will win a cash award of $1,500.
Advertisement