Shoes include a snakeskin-like print on the stripe and snake character on insole.
Click image to enlarge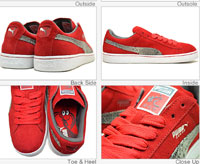 Puma SNAKE COM.A Year of the Snake Shoes.
Want to celebrate the Year of the Snake with a new pair of kicks? OR do you want a cool pair of shoes to wear on your herping adventures to the local reptile zoo? Puma has just the sneaker for you with the Puma Suede SNAKE COM.A, a sneaker designed specifically to celebrate the Year of the Snake.
The sneaker comes in red or black and in celebratory fashion, the Puma stripe is outfitted with a snakeskin-like print. The insole features a snake character with bulging eyes that greet you every time you slip the sneakers onto your feet. The shoe's tongue has Chinese writing as well. The SNAKE COM.A shoes are currently available in Japan for about $93.57 (8,925 Yen). No word yet if the shoes will be available in the United States. Click the image for a larger view.
Advertisement