Nuclear Regulatory Commission to hold hearings on potential habitat impact of Elaphe gloydi.
Click image to enlarge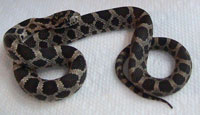 Juvenile Eastern fox snake. Photo by LA Dawson/Wikipedia
A proposed nuclear plant in the state of Michigan has created so many questions with regard to the population of the endangered eastern fox snake (Elaphe gloydi) that a federal panel has agreed to hear the concerns of environmental groups that assert the building of the plant would harm the snake's habitat. According to the Monroe News, the Atomic Safety & Licensing Board of the Nuclear Regulatory Commission will conduct hearings on the possible impact DTE Energy's plans for a Fermi 3 nuclear plant would have on the snake. The hearings are expected to take place in the Fall of 2013.
DTE says the plant's potential impact on the snake's habitat would be low due to the company's "robust mitigation plan" that the company would carry out, per requirements by the state of Michigan. The company says that its Eastern fox snake mitigation plan, which was approved by the state of Michigan, is evidence of its commitment to protecting the environment. Although the company has not committed to building a plant, it has applied for a federal license to build one next to its Fermi 2 plant.
Anti-nuclear groups Beyond Nuclear, Citizens for Alternatives to Chemical Contamination, Citizens Environment Alliance of Southwestern Ontario, and the environmental groups Don't Waste Michigan and the Sierra Club Michigan Chapter contend that the environmental impact statement does not address how the energy company intends to "prevent or mitigate damage" to the habitat of the snake, and say that state budget cuts have prevented an adequate review of the snake's habitat. They also claim that the utility has not determined how many snakes exist on the property in question or how their populations would be affected. They also contend that the utility has made no plans or commitments to relocate any snakes near the company's existing Monroe Power Plant.
---
Click here for a great corn snake care sheet.
---
The Eastern fox snake is a member of the rat snake family and are closely related to the black rat snake (E. o. obsolete), the gray rat snake (E. o. spiloides), the yellow rat snake (E. o. quadrivittata), the Everglades rat snake (E. o. rossalleni) and the Texas rat snake (E. o. lindheimerii). In Michigan, the Eastern fox snake is often mistaken for the Massasauga (Sistrurus catenatus) rattlesnake, which shares its geographical range. It can be found in marshes and wet meadows. They feed on small rodents, frogs, and birds. They are also known to coil and shake their tails when threatened.
For more information on the North American rat snake, click here.