In effort to reduce number of Salmonella infections, Petco will accept any aquatic turtle from those who wish to give them up.
In an effort to reduce the spread of humanSalmonella infections, Petco, in partnership with the Concordia Turtle Farm in Louisiana is accepting any aquatic turtles and especially those less than four inches in carapace length from anyone who wishes to give them up. This applies to all U.S. states except Hawaii. The pet store company launched its Turtle Relinquishment Program with the farm in an effort to prevent the spread of Salmonella infections attributed to undersized turtles.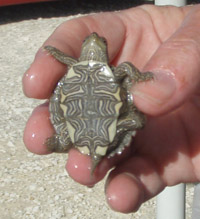 Advertisement
Photo by CDC
Aquatic turtles with carapace lengths of 4 inches or less often carry Salmonella bacteria.
Aquatic turtles less than four inches in carapace length have been illegal to sell in the United States since 1975, but they are still commonly found for sale by street vendors, websites, and some pet stores. Purchasers of these turtles are not aware that these reptiles can carry the Salmonella bacteria. Turtles that are less than four inches in carapace length will be sent to the Concordia Turtle Farm where they will be cared for. The Center for Disease Control and Petco have issued the following safely tips for safe handling of turtles.
Don't buy small turtles under four inches in length from street vendors, websites, pet stores or any other sources.
Do not capture turtles in the wild and keep them as pets.
Do not keep reptiles in child care centers, nursery schools or other facilities with young children.
Always wash hands thoroughly with soap and warm water immediately after touching reptiles or anything in the area where they live and roam. Adults should always supervise hand washing for young children. If soap and water are not readily available, use hand sanitizer.
The CDC and the U.S. Food and Drug Administration are working with public health officials in multiple states to investigate human Salmonella infections linked to aquatic turtles. According to the CDC website, 34 states have reported 219 illnesses from August 3, 2011 to September 13, 2012, with 66 percent of those infected under the age of 10 and 30 percent age 1 year or younger. Of the 219 reported cases, 49 percent of the ill persons are of Hispanic ethnicity, and the CDC has on its website information regarding Salmonella and reptiles in Spanish.
Advertisement
For more information on Human Salmonella infections and small turtles, including advice to consumers, signs and symptoms of Salmonella and other resources, please visit the CDC website.