Scott Nellis has been breeding snakes in his home for more than 16 years and wants his business to be grandfathered in from 2010 snake ban.
A Coon Rapids, Minn. snake breeder is appealing a 2010 city ordinance change that prohibits the possession of pythons and boas and running a business in a private home. According to a report on myfoxtwincities and Fox 9 News, Scott Nellis has been breeding reptiles and the rodents to feed them in his Coon Rapids home for the last 16 years and believes that his home-based business should be grandfathered in. The city received a complaint from a neighbor last year and cited Nellis for having illegal animals and for conducting business in a residential zone. Nellis, who is appealing, says that no customers come to his home, but rather, he goes to reptile shows, often out of state, to sell his animals.
---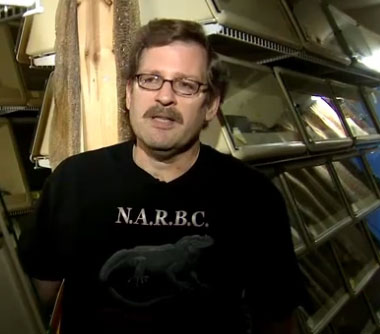 Advertisement
Screen grab courtesy Fox 9 News.
Scott Nellis of Coon Rapids, Minn.
---
In the city's citation, the city pointed out air quality issues and fire safety concerns. Nellis, according to the report, countered that just 27 percent of his home is used for his snake breeding business, all of his animals are kept in professionally designed snake breeding racks, and he maintains a meticulous and organized cleaning system.
On top of the 2010 city ordinance, the city has introduced another ordinance this month that Nellis believes is targeted specifically at him. That ordinance is written to limit the possession of domestic animals to 12, which he says would shut him down. He currently has approximately 300 reptiles.