The activist group wants to know if the record-setting python was killed humanely.
The activist group People for the Ethical Treatment of Animals have written a letter to the Florida Fish and Wildlife Conservation Commission, asking the commission to "confirm the methods used to kill the snakes," during the South Florida Water Management District's Python Elimination Program. PETA asserts that the 17-feet 1-inch Burmese python (Python molurus bivittatus) may have not been killed "in the most humane manner possible."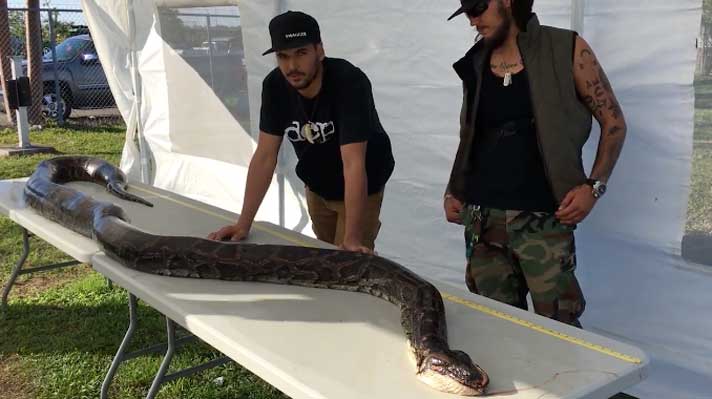 SOUTH FLORIDA WATER MANAGEMENT DISTRICT
This is the record setting Burmese python that was killed earlier this month.

The organization requests in its letter that the FWC confirm the methods used to kill the reptiles and to refer any "possible violation of Florida's cruelty to animals statute to the appropriate authorities."
---
Want To Learn More?
Hunter Captures 17-foot Burmese Python In Florida
Burmese Pythons In The Everglades
---
PETA says that because the FWC and the South Florida Water Management District are sponsors of these elimination programs, it is up to them to ensure that the hunters are following American Veterinary Medical Association (AVMA) approved methods to dispatch the invasive snakes. PETA takes issue with how the hunter, presumably, Jason Leon, who early this month captured and killed the large python in question, euthanized the snake.
Leon told the Palm Beach Post that he doesn't want the snake to experience any suffering. "You want the snake to die instantly," he said.
Dusty "Wildman" Crum agreed. "We don't want the snake to suffer," Crum said. "It's not their fault they are in the situation they are in."
"Rules of the Python Elimination Program direct all participating hunters to follow American Veterinary Medical Association guidelines in the eradication of these snakes," the South Florida Water Management District said in a statement. "District staff review all claims/complaints levied against the program's hunters and will continue to enforce the rules of the program."
According to the South Florida Water Management District's rules, firearms are permitted in the dispatching the pythons, provided that the use is consistent with the terms of the FWC permit issued to the SFWMD, and local, state, and federal regulations. All killings of the pythons must be performed in a humane manner, according to the SFWMD.