Elizabeth the Iguana was equally at ease with children as well as celebrities and politicians.
Elizabeth, the most famous iguana in New York City, has died. She was 19 and came to the Brooklyn Children's Museum as an adoptee in 1993. The four foot long green iguana held sway in The Big Apple, having cavorted with the likes of politicians such as Mayors Michael R. Bloomberg, Rudolph W. Giuliani, and Edward I. Koch, as well as entertainers Matthew Broderick, Vanessa Williams, and Muppets Elders Statler and Waldorf.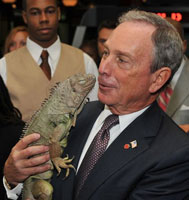 Advertisement
Photo credit: Brooklyn Children's Museum.
Elizabeth the Iguana held sway not only with famous politicians and celebrities, she also enjoyed working with children.
"It is not every day that an iguana gets her own New York Times obituary; clearly Elizabeth was a very special iguana," Mayor Michael Bloomberg said in the New York Times article announcing her demise. "I met her three years ago when we opened the new Brooklyn Children's Museum and I'm glad that Elizabeth was able to spend the last three years doing apparently what she loved, spending time with children in this wonderful city of ours."
Elizabeth often worked with a group of developmentally disabled teenagers from the League School in Brooklyn, who came to visit in the mornings, taking her out in the garden on warm days, feeding her, and just hanging out with her. The city had just finished an iguana enclosure in the greenhouse where Elizabeth enjoyed the last two months of her life. A memorial service for Elizabeth will be scheduled at the museum's greenhouse. For more information about the memorial service, visit the Brooklyn Children's Museum website here.
Advertisement