The two baby loggerheads will be released next year.
An aquarium in North Carolina is asking for your help in naming two baby loggerhead sea turtles (Caretta caretta) that are currently in their care. The North Carolina Aquarium at Fort Fisher has been caring for the reptiles after they were excavated from their nests earlier this year. The hatchlings failed to leave the nest and make the trip to the ocean.
Advertisement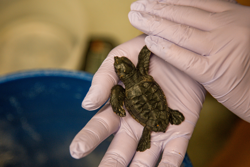 North Carolina Aquarium at Fort Fisher
The aquarium needs help naming two baby loggerhead turtles.

"Giving these sea turtles a name allows our guests to more deeply connect with the animals and better understand how our actions impact them and other marine animals," said Gail Lemiec, aquarium educator.
---
Study Finds Microplastics In All Seven Marine Turtle Species
Advertisement
---
Staff at the aquarium have selected five names to choose from: Bubbles, Hatch, Noggin, Pearl, and Scute. Voting ends December 3.
If you wish to vote, click here.
The turtles will be in the care of aquarium staff for a little more than a year. They will then be released into the Atlantic Ocean. Two yearling loggerheads, named Castor and Carretta, will be released into the Gulf Stream Current when the waters warm.