Yellow dyer rainfrog secretes yellow substance when handled.
Herpetologists with the Senckenberg Research Institute in Germany have published details of a yellow frog discovered in 2010 that secretes a yellow substance upon handling. The frog, called the yellow dyer rain frog (Diasporus citrinobapheus) was discovered in the Serranía de Tabasará mountains in western Panama by a group led by Andreas Hertz.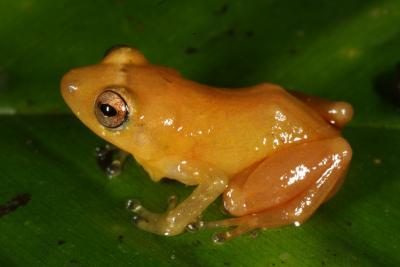 "Although we recognized that the male mating call of this species differs from all what we had heard before and therefore suspected it to be new, much effort was involved to finally spot it in the dense vegetation", Hertz said in a prepared statement. "When we finally caught the first individuals by hand, we noticed that it dyes one's fingers yellow when it is handled. The scientific name (Diasporus citrinobapheus) of this new frog refers to this characteristic and means yellow dyer rainfrog."
The group studied the physical build of the frog, which is less than an inch in size, as well as the color, vocalization and molecular genetic data, skin texture, disk cover, and disk pad shape with that of closely related species Diasporus tigrillo and Diasporus gularis and determined that it was a new species. Field work on the frog occurred between May and August 2010.
The biologists also analyzed the skin secretions to determine if it was poisonous. They couldn't find any poison in the secretions. The study was published in the journal ZooKeys, which the full text can be found here.
Advertisement