Siamophryne troglodytes is a new species placed in an entirely new genus.
A new species of cave-dwelling frog has been discovered and described by researchers with Moscow State University, University of Phayao, Thailand, Ranong Marine Fisheries Station, Nakhon Pathom Rajabhat University, Kasetsart University, Bangkok, and the Joint Russian–Vietnamese Tropical Research and Technological Center.
Advertisement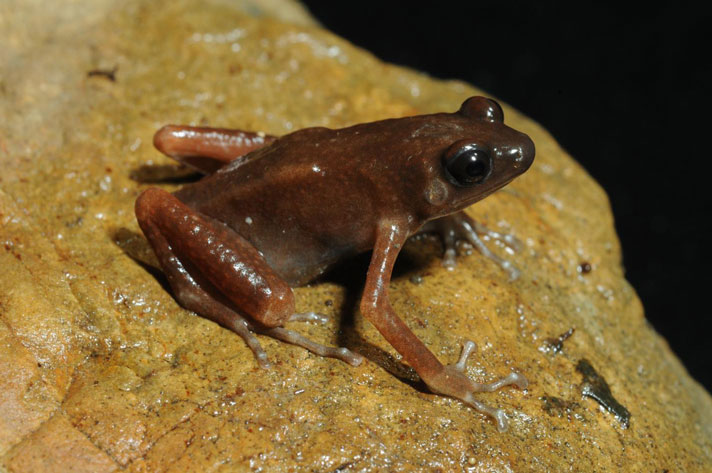 N. A. Poyarkov
Male paratype of Siamophryne troglodytes Gen. et sp. nov. in life in dorsolateral aspect.

The frog, Siamophryne troglodytes, is a previously unknown species that the scientists have placed in a new genus, batrachians. It was discovered in a limestone cave in the tropical forests of western Thailand, according to the paper released on the Peerj website.
According to the paper, Thai researcher Jitthep Tunprasert, in 2016, was working in western Thailand, in Sai Yok District's karstic region when he happened upon the small frog with big eyes and fingertips that disc-like. Tunprasert snapped a photograph of the reptile and shared it with his peers. Tunprasert and his colleagues knew the amphibian was new to science and placed it in the family Microhylidae, unsure what group within the family that it belonged.
Advertisement
"Thai colleagues contacted me because I'm interested in this family of Amphibia. Together, we conducted extensive work, collected specimens, analyzed the DNA and morphology of both adult animals and tadpoles," said Nikolay Poyarkov, assistant professor and senior research associate, department of zoology of vertebrates, faculty of biology at Moscow State University.
---
Two Tiny Frogs Deemed World's Smallest Discovered In Papua New Guinea
---
Scientists then returned to the cave several times over the years and conducted Phylogenetic analysis, which determined that the frog belonged to the subfamily Asterophryinae, according to the paper. Frogs within this family were mainly from Northern Australia and Papua New Guinea. The fact that Siamophryne troglodytes was found deep on the Asian continent (as opposed to Northern Australia and Papua New Guinea), confirms ancestors to this species moved to Asia from the Gondwana the ancient continent that broke up 180 million years ag and makes up the landmasses that are known now as Africa, South America, Australia, Antarctica, the Indian subcontinent and the Arabian Peninsula, according to the researchers.
"The importance of our discovery is manifold," Poyarkov said in a press release announces the discovery. "First of all, we've found an animal so different from all others that it is considered to be a separate genus. Things like that do not happen every day. Secondly, phylogenetic position of the new genus sheds light on the evolutionary history of a respective subfamily of microhylids. Finally, this discovery is important in scope of protection and conservation of Southeast Asian herpetofauna. Today we know about only one population of these frogs, and all our search attempts, however intensive, were not successful. Therefore, to protect the animals, we do not disclose the location of the cave," Poyarkov said.
Advertisement
The complete paper can be read on the Peerj website.