Cyrtodactylus kingsadai is the 25th species discovered in the Southeast Asian nation since 1997.
A new species of gecko was recently discovered in Vietnam at Dai Lanh Cape in Phu Yen province by Vietnamese researchers Phung My Trung, Minh Duc Le, and Truong Quang Nguyen and German researcher Thomas Ziegler. The lizard, Cyrtodactylus kingsadai is nocturnal and was found in abundance along coastal areas of the province. The toed lizard is just under four inches in body length.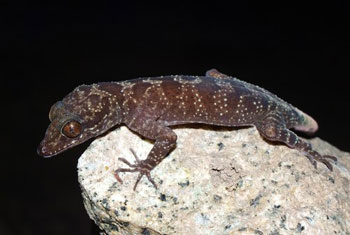 Photo by Phung My Trung
Bent toed gecko discovered in Vietnam at Dai Lanh Cape in Phu Yen province.
---
Want to Learn More?
Advertisement
Colorful Lizard From the Family Agamidae Discovered in Vietnam
Vietnamese Golden Gecko Breeding
Vietnamese Flying Frog Discovered Less Than 100 Kilometers From Ho Chi Minh City
Advertisement
---
It is light brown in coloration with dark lines running vertically on the back with white raised dots present on the lighter shades of the body. According to researcher Phung My Trung, the male of the species was difficult to locate, as it apparently appears only during mating season. During four herping expeditions to the region, the researchers located just three male lizards.
The lizard was named after the late Lao researcher Phouthone Kingsada of the National University of Laos, an expert on the Cyrtodactylus family of geckos. Kingsada was working on describing this lizard last year when he died of dengue, according to the English language Vietnamese news site VietnamNet. In 1997, only three species of gecko of the Cyrtodactylus family were described in the country. Since then, 25 more species of gecko in this family have been described from Vietnam.