A love for amphibians helped this naturalist overcome childhood illness and took her around the world.
Many herpetologists claim to have loved reptiles and amphibians from the time they were young. It isn't unusual to hear talk of discovering the wonders of nature by the age of 5. Few, however, can claim that a passion for amphibians actually helped them overcome paralysis and brain damage.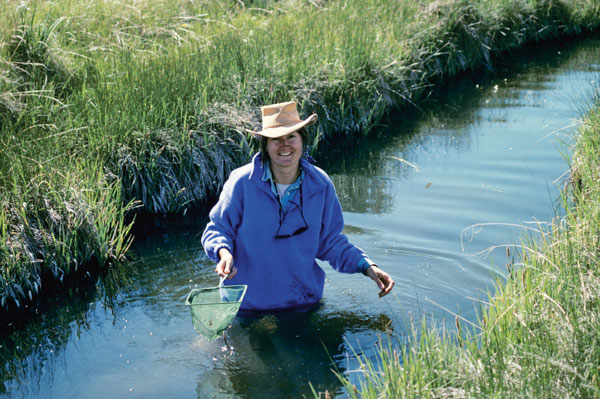 Jamie K. Reaser doing research on her 85 acre farm in Virginia
At 6 years old, Jamie K. Reaser experienced a severe mastoid infection. This ailment ultimately induced a grand mal seizure and coma. Even after she managed to regain consciousness, she had new challenges to contend with: brain damage and right-side paralysis.
Doctors encouraged her parents to indulge any intellectual fancy Reaser had. The hope was that her natural curiosity and desire to learn would help in the recovery of brain function and neuromuscular control. Soon after her release from the hospital, Reaser had a life-altering interaction with an American toad that had become trapped in a window well at her home. From that moment onward, herps, especially amphibians, became the passion that her parents were more than willing to accommodate.
The doctor's advice worked. In literal pursuit of amphibians and reptiles, Reaser not only regained coordination, she also developed into quite the naturalist and scholar. In her teens, she volunteered for the Caretta Research Project and started conducting professional reptile and amphibian surveys. As a doctoral student in biology at Stanford University, she focused on questions related to the rapid decline of amphibians in the wild, investigating causes such as habitat loss, disease, pollution, climate change, radiation and roadkill.
Advertisement
Since that time, Reaser has primarily worked at the interface of conservation science and policy — taking on leadership roles for organizations such as the Declining Amphibian Population Task Force, Task Force on Amphibian Declines and Deformities, and Partners in Amphibian and Reptile Conservation. Her work as a biologist, educator and international policy negotiator has enabled her to interact with herps and other herp conservationists around the world.
Reaser's Tips For a Career in Herps
"Always remember what inspired your work in the first place. Work cooperatively rather than competitively. Stay grounded — keep at least one foot in the mud. Mentor young people at every opportunity."
These days, Reaser's professional relationship with amphibians and reptiles largely lives through her writing. Herps are featured in her book, Courting the Wild: Love Affairs with Reptiles and Amphibians, and make appearances in poems found in the collections Huntely Meadows: A Naturalist's Journal in Verse and Note to Self: Poems for Changing the World from the Inside Out.
On a personal level, Reaser enjoys being an amphibian steward on her 85-acre farm in Virginia. To order a copy of her books, visit hiraethpress.com or Amazon.com. She can be contacted at ecos@nelsoncable.com. REPTILES
Advertisement