From education to herp conservation, Ivani's work with reptiles and amphibians continues to make a difference.
A love of nature drove Craig Ivanyi to earn a bachelor's degree in ecology and evolutionary biology, and then later a master's in wildlife and fisheries science from the University of Arizona. But his love of herps did not develop until 1984, when he began volunteering at the Arizona-Sonora Desert Museum.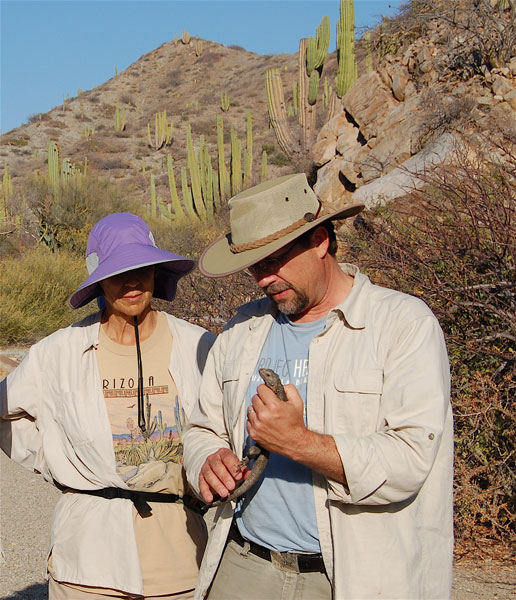 Craig Ivanyi holds a Sauromalus klauberi while on Isla Santa Catalina, in the Gulf of California. Carol Hubbard, one of the Desert Museum's docents, looks on.
"The animal that started my career down this path is the canyon tree frog (Hyla arenicolor). I opened a plastic shoebox, and five of them jumped out. I looked around to find them stuck to everything – the wall, a roll of paper towels, my shirt, etc. Pretty cool. That's all it took!" Ivanyi said.
For the 20 years that followed, Ivanyi worked his way up through the museum. "I held about 10 different positions, ranging from intern and keeper, to assistant curator and curator of herpetology, ichthyology and invertebrate zoology. Most rewarding was developing staff and having direct involvement with conservation projects and educational outreach. Now, as the executive director, I oversee all of the living collections (botany; herpetology, ichthyology and invertebrate zoology; mammalogy and ornithology, raptor free-flight; and the interpretive animal collection), as well as the exhibits department."
It is a large amount of responsibility, but Ivanyi enjoys the challenge and the ability to make a difference in how people relate to nature and helping to educate them about the natural world.
---
Advice to Young Herpers
"To get into zoo herpetology, one can follow several paths. I suggest that, while studying at university (which is essential these days), students start out with fairly liberal programs of study. Explore – get to know the world, and especially, yourself. Then, as you move through your first and second year, start to narrow your focus. If graduate study is for you, that's when one should be most focused on the narrowest range of topics. If you want to get into upper positions (curator and above), a Master's degree is a must and a Ph.D. is becoming the standard. However, do not expect to get a job as a keeper if you have a doctorate. Perhaps equally important, as a person goes through college, I suggest volunteering in the field. Get to know more about what it has to offer, make sure it's right for you, gain some experience and get to know important people in an institution of relevance to your career (academia, zoo herpetology, state/federal wildlife management, etc.)."
Advertisement
"I see myself primarily as an educator, who tries to convince folks about the value of wildlife and wild places. A special area of focus has been changing public perception about the value of and risks that venomous animals pose," he said.
Given the fears many have concerning venomous species, this is no small task, but Ivanyi is dedicated to fostering appreciation. "Years ago, I was speaking to a young lady about snakes. She asked if I liked rattlesnakes, and of course, I said that I did. She asked why. I thought for a few moments, and then told her that I probably get the same feeling looking at them, their unlimited colors and patterns, as a person does when they look at paintings by Monet, Degas, etc. They are living art."
Current Projects
Reintroduction of the Tarahumara frog.
Recovery of the Chiricahua leopard frog.
Salvage and recovery of the Mexican garter snake.
Public education and procedural changes on how reptiles are translocated (due to concerns for human and pet welfare).
Several exhibits, including one called "Life on the Rocks" (an in-depth, mixed-species, indoor/outdoor look at a south-facing rocky slope in Arizona-Upland desert scrub habitat); one on ethnobiology; and one called the "California Floater" (freshwater mussel).