Soldiers were conducting training exercises on Oahu's North Shore when they rescued Chelonia mydas.
Soldiers with the 643rd Company, 84th Engineering Battalion, 130th Engineer Brigade conducting a physical training session Dec. 10 on Oahu's famed North Shore rescued a green sea turtle that was caught in a crab trap floater. According to a report in HawaiiNewsNow, the soldiers were kayaking along the island's Anahulu River when Spc. Henry Caldera noticed a crab net line buoy bobbing on the ocean surface in an aggressive fashion. Caldera paddled to the buoy and discovered a green sea turtle tangled in the net beneath the buoy. Caldera and kayak instructor Wendy Nakama proceeded to lift the turtle out of the water and onto the kayak. They then proceeded to cut netting that was wrapped around its neck and watched as the turtle took three big gasps of air. Hawaii's sea turtle stranding hotline run by the National Oceanic and Atmospheric Administration was called and a team of support personal from the administration received the turtle in Mililani Town, a short distance from the famed surfing mecca. The turtle, which weighed 35 pounds and was approximately 10 to 15 years old, was released in good health Dec. 11.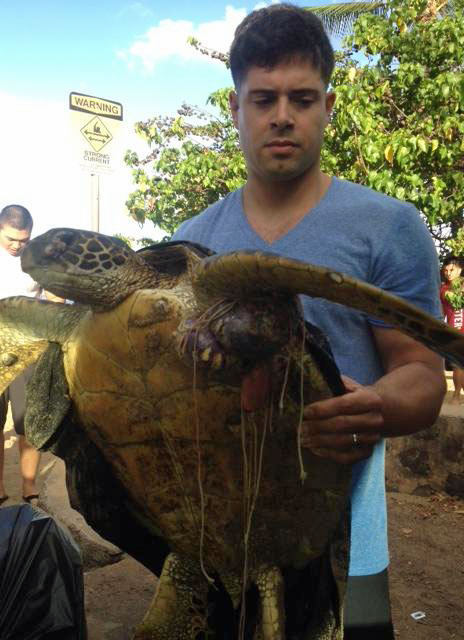 Photo by Jack Wiers, U.S. Army Garrison-Hawaii Public Affairs
This green sea turtle was rescued after it became entangled in a crap trap floater
The green sea turtle (Chelonia mydas) is an endangered species that is growing in numbers in the waters off Hawaii. According to the IUCN, the number of green sea turtles in Hawaii has grown since hunting them was banned in Hawaiian waters in the early 1970s. IUCN estimates that 10,000 green sea turtles live in Hawaiian coastal habitats. Hawaiian green sea turtles are still threatened in Hawaii by illegal hunting as well as the disease fibropapillomatosis, which is the biggest factor in green sea turtle strandings in the 50th state. According to the IUCN, the disease accounted for 28 percent of strandings in Hawaii in 2008 and an 88 percent mortality rate of the stranded turtles.