Woman is hopeful her bearded dragon will be mounted soon.
A San Francisco woman who sent her deceased bearded dragon to a taxidermist to be mounted after it became sick and had to be euthanized got it back after it sat more than six years in the taxidermist's freezer. According to a news story on ABC7, San Francisco resident Debora Tennerino dropped her beardie, Sweet Pea, off to a taxidermist in Fremont and paid him $750 to have Sweet Pea mounted so she could keep her in her home.
---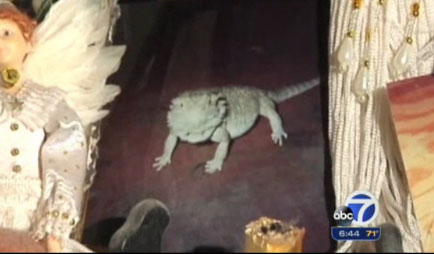 News 7 San Francisco
Sweet Pea the bearded dragon.
---
However, Tennerino had to wait. And wait. And wait. A year went by, then two, then three and still no stuffed Sweet Pea. After six years, she finally called San Francisco TV station News7, and talked with consumer advocate Michael Finney to inquire about what happened. Finney contacted the taxidermist who told him that his machine broke down and that Sweet Pea remained in his freezer until he could get the machine fixed. Since six years is a bit too long, and at the urging of Finney, the taxidermist returned Sweet Pea, who was surprisingly well preserved, as well as Tennerino's $750 and promised her that once his machine is fixed, she will be first in line to get her animal mounted.
"I feel great. I feel he can move on, I can move on and it's not totally resolved because Sweet Pea's still in the freezer," Tennerino told News7's 7 OnYourSide. She still wants to get Sweet Pea mounted and out of her freezer, but is happy to have the bearded dragon home.