Students studying the reptile hope that their efforts pay off and the governor signs the house bill into law.
The venomous Gila monster (Heloderma suspectum) may become the state reptile of Utah, thanks in part to students at Lava Ridge Intermediate School in Santa Clara, UT, who presented their case for state reptile status to the Utah House Natural Resources, Agriculture and Environment Committee late last month.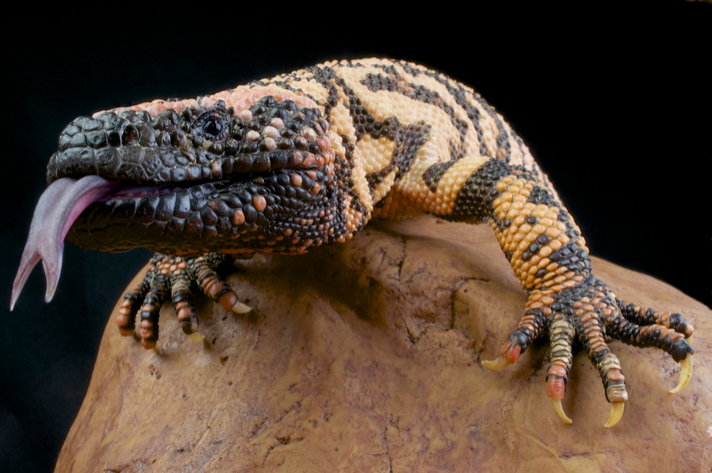 reptiles4all
The Gila monster is a medium-sized venomous lizard.
"A state reptile can help represent Utah's values and characteristics. It can also help represent the beauty and characteristics of nature in Utah," Kyla Larsen, a student at Lava Ridge Intermediate School and one of the students who pleaded the case for state reptile status, told The Salt Lake Tribune. "It can bring awareness of the diversity of Utah's 55 native reptile species."
Rep. Lowry Snow, R-Santa Clara sponsored HB144 in a effort to get the reptile listed. Republican Sen. Don L. Ipson, executive appropriations vice chair – Utah State Senate, is listed as the floor sponsor.
Advertisement
---
The Helodermas: Beaded Lizards And Gila Monsters
---
"They're working on it as a science project and also getting instruction from me on civics," Snow told The Salt Lake Tribune. "I think any time we can encourage students one-on-one in learning the process and having a hand in it is incredibly valuable." The next step would be for Utah Gov. Gary Herbert to sign the legislation into law.
The Gila monster can grow to more than 20 inches in length but 13 to 19 inches is the average size. Its native range includes Arizona, Nevada, New Mexico, Utah, and Mexico, in desert and foothills of mountains. In the wild, the Gila monster consumes rodents, eggs, and small reptiles. It is related to the beaded lizard, another venomous species that is native to Mexico.