A drug that uses crotoxin from the South American rattlesnake has shown promise to kill pancreatic and lung cancers.
Crotalus durissus terrificus, a subspecies of South American rattlesnake that packs venom so potent that it can quickly cause paralysis, permanent blindness, shock and other serious neurotoxic symptoms, may be the key to curing certain cancers, according to a report in The Irish Sun.
Celtic Biotech, a firm founded by two brothers, is working on a drug based on the snake's venom that could one day be a cure for cancer.
Advertisement
The Kentucky Reptile Zoo extracts the venom used in the experimental drug from the venomous snakes that the zoo keeps for the Irish biotech company.
"It is mind-blowing in a way that something that could kill you could also save your life under a different set of circumstances," " Kristen Wiley, the reptile zoo's co-director told WKYT.com.
The zoo is no stranger to the efficacy of the venom, as Jim Harrison, the other co-director of the zoo was bitten by a South American rattlesnake a few years ago.
"They can cause damage to the tissue, and then they also have a high neurotoxin in their venom," Wiley said. "He was basically unconscious within several minutes of the bite – maybe 10 or 15 minutes he was losing consciousness. But it also caused him to have some breakdown of muscle tissue, as well."
Advertisement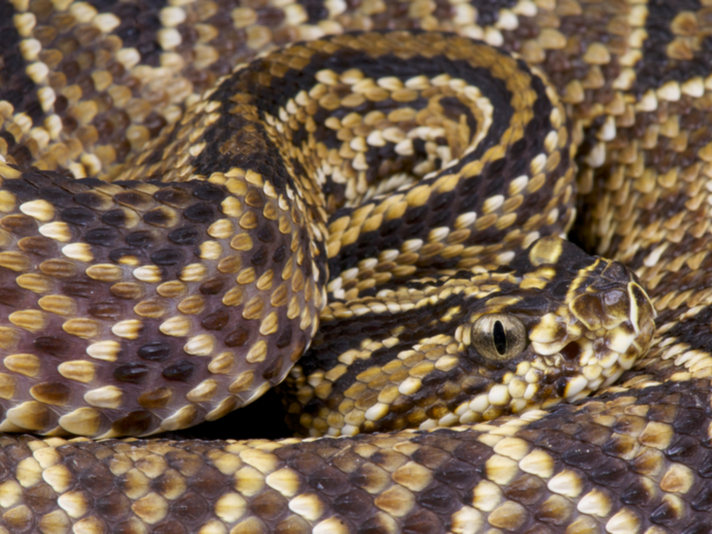 reptiles4all/Shutterstock
A drug that uses crotoxin from the South American rattlesnake has shown promise to kill pancreatic and lung cancers.

But it is those same deadly venom's properties that Celtic Biotech thinks is the key to curing cancer. According to Dr. Paul Reid and his brother John Reid, co-founders of the firm, the drug, which is made by extracting crotoxin from freeze-dried South American rattlesnake venom, binds to a protein present in cancer cells and kills the malignant cells by causing them to self destruct.
Advertisement
---
Reptiles And Amphibians In Pharmaceutical Research
---
So far, initial results of the experimental cancer drug are promising. According to John Reid, a full two-thirds of the patients who used the drug showed beneficial results.
"In this case, out of the six patients, two had their disease stabilised — meaning their disease did not progress — which is remarkable from a phase one study, as five weeks is not a long time to be taking a drug," Reid told The Irish Sun. "With two other patients their primary tumours didn't grow. So you could say four of the six patients have seen a beneficial effect. The drug also showed strong indications of an anaesthetic effect — it's a potent painkiller. So imagine a drug that will not only treat your cancer, but will also treat your pain — and doesn't have any side effects."
The experimental drug, the Reid brothers say, is very aggressive against pancreatic and lung cancers.
Advertisement
"We are very pleased with the results and we are very excited about getting into the next stage — which I imagine will start at some stage in the summer," John Reid told The Irish Sun.
"We knew it was safe, but we needed to show it would be safe to administer higher doses, quicker. Previous trials had doses of up to 0.21mgs/m2. We showed that we can give a person five times that level and we still haven't reached the maximum tolerated dose. We are now trying to discover what the largest small dose we can begin with is so patients are starting off a few rungs up the ladder."
Advertisement