Some in the affluent town of Pinellas want sea turtle nests gone.
The Belleair Shore Community in the affluent town of Pinellas, FL is complaining about turtle nests that they say is on their beachfront property and were put there by the Clearwater Marine Aquarium without their permission, and they want those nests gone.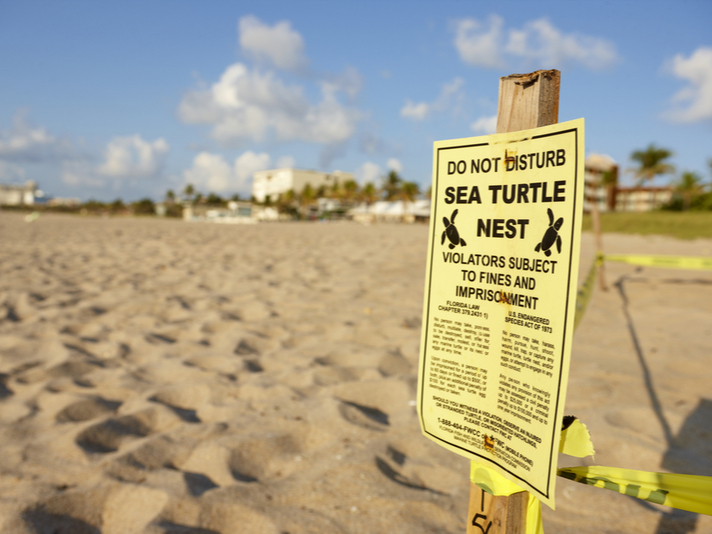 R.A.R. de Bruijn Holding BV/Shutterstock
Homeowners in the exclusive enclave of Bellair Shore in Florida want sea turtle nests off the beaches which they claim are private property.

"They relocated 400 eggs onto private property and didn't tell us," Deputy Mayor Deborah Roseman told Tampabay.com. "We learned about it by going out and seeing all these roped off areas on private property."
Roseman said that six nests were on her property, and Steve Blum, a town commissioner, said that one of the nests were relocated onto his private land by the aquarium. Roseman told Tampabay.com that the sea turtles are trespassing, based on how the community measures property boundaries.
Advertisement
The CEO of the Clearwater Marine Aquarium disagrees. David Yates told Tampabay.com that the turtle nests are indeed on public lands, and says that in spite of what the city commissioners say, not all of the nests were relocated to the area. CEO Yates says of the eight nests that are on the disputed sands, three were relocated and five are natural, meaning the female turtles decided to nest in those locations.
"We're not trying to violate someone's property rights," Yates said. "That one nest behind Commissioner Blum's property, that's a natural nest," Yates said. "There are eight nests out there [near Roseman's home]. Three of them were relocated, but the other five were not. They're natural nests."
The enclave has consistently resisted any beach improvements because according to Florida law, any beach renourishment projects automatically make those beaches public beaches, and the Belleair Shore Community most likely do not want to share their grains of paradise with the regular folk.
Yates, who told Tampabay.com that this was the first instance in which people had objected to relocated turtle nests, said most people like to see turtles.
Advertisement
"Most people enjoy having these nests in their area and watching them hatch," he said. "In less than 60 days from now, this is going to be over."