The massive Crocodylus porosus captured last year measures more than 20 feet long and weighs more than one ton.
The huge saltwater crocodile captured last year in the Philippines is the largest saltwater crocodile in captivity, according to Guinness World Records, which measured and weighed the reptile. Named Lolong, the large Crocodylus porosus measures 20.24 feet in length and weighs more than 2,000 pounds. It was captured in Bunawan town last year in the Agusan marsh after a child was killed by a large crocodile. The town where the crocodile was captured built an ecotourism park to showcase Lolong, which to date has earned more than 3 million pesos ($71,616) from the entrance fees to see the animal.
---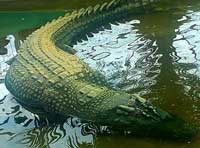 Photo credit: Marty Williams/Wikimedia
Lolong, a saltwater crocodile captured in the Philippines in 2011 is the largest such animal in captivity.
---
According to a news report in the Seattle Times, Ramon Paje, Philippine Environmental and Natural Resources secretary welcomed the announcement by Guinness World Records and will use the distinction in hopes of persuading the Philippine government to help Bunawan become an ecotourism destination in this island nation.
The marsh in which Lolong was captured has been reduced from 111,000 hectares of protected land in 1991 to less than 20,000 hectares due to a conversion policy that was passed in 1996. In addition to the reduction of protected land for animals such as the saltwater crocodile to inhabit, other threats are affecting the Agusan Marsh, including the construction of dwellings along the river banks and inside the marsh area, destruction of the river banks, and logging and mining in the upland areas near the marsh. A group of local and regional government officials and conservation organizations convened a forum last year discussing how to further protect the marsh, which has tentatively been listed as a world heritage site by the United Nations Educational, Scientific, and Cultural Organization (UNESCO). The marsh, according to the report, is one of the most important wetland areas in the world.