Hardin is former bureau chief of fisheries services for the Florida Fish and Wildlife Conservation Commission.
Scott Hardin, former bureau chief of fisheries services for the Florida Fish and Wildlife Conservation Commission, will join the Pet Industry Joint Advisory Council of Washington, D.C., as a consultant beginning July 1, 2012.
"Scott Hardin's extensive experience with exotic and invasive species is a tremendous asset to PIJAC," said PIJAC president Mike Canning. "Mr. Hardin will work closely with the PIJAC legislative department in our continuous mission to ensure the rights of exotic and aquatic pet owners. Hailing from Florida, Mr. Hardin has instant credibility with other state regulators that could seek to limit the rights of people to responsibly own reptiles and other exotic pets."
---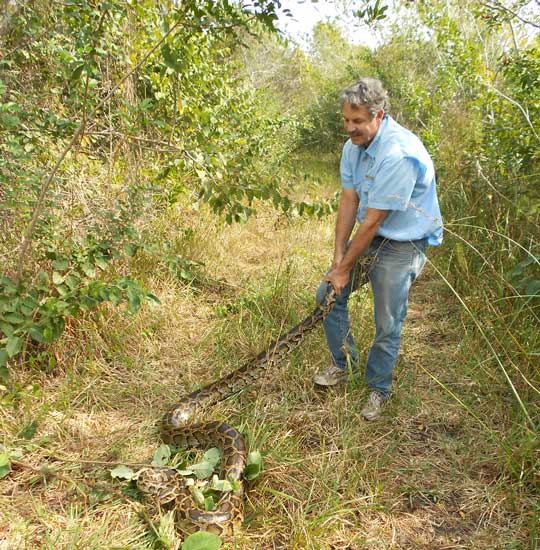 As wildlife species coordinator for the Florida Fish and Wildlife Conservation Commission, Scott Hardin was actively engaged in management of exotic and invasive species, such as Burmese pythons.
---
Most recently, Hardin was exotic species coordinator at the commission, coordinating prevention and control activities including regulation development, education and outreach, eradication and monitoring efforts.
In that role, Hardin advocated for flexibility for state and local agencies battling invasive species and against blanket bans on species without proper risk analysis conducted at the state level.
For example, in March 2010, he testified to a U.S. House committee on Burmese pythons in South Florida.
Advertisement
"The commission acknowledges the need for increased capacity to identify potentially invasive species prior to their importation or widespread trade," he testified. "Risk analysis—assessing the likelihood of establishment of a non-native species and its consequences—should be implemented for species currently in or proposed for commercial trade. While some species are problematic at the national level, e.g., zebra mussels, other animals pose local or regional threats, and flexible legal and operational solutions are needed.
"We propose the concept of a federal-state partnership, where the states conduct risk analyses under the auspices of federal administration….," he testified. "Species found likely to cause adverse ecological or economic impacts at the national level would be candidates for injurious wildlife listing under the Lacey Act and prohibited from importation or interstate shipment. Species with high risk of impact at the state or regional level would fall under state-based restrictions."
As bureau chief, Hardin conducted freshwater fisheries management projects, including aquatic habitat restoration, aquatic plant management, urban fisheries programs, non-native fish laboratory and aquatic education, PIJAC reported.
"I'm looking forward to using my experience in dealing with exotic and invasive species to pursue PIJAC's goals of promoting responsible pet ownership and environmental stewardship," Hardin said. "Programs like Habitattitude and voluntary codes of conduct represent great opportunities to improve environmental awareness and maintain a healthy pet industry."
Advertisement
Harding is also credited with developing Florida's Exotic Pet Amnesty program to help prevent the release of non-native pets into the wild by re-homing them with qualified people. The program hosts adoption events for reptiles, amphibians, birds, fish, mammals and invertebrates in which potential adopters are pre-approved and surrendered animals are inspected by veterinarians.
The amnesty program dovetails with Hardin's efforts, with the commission, to balance economic, pet owner and environmental interests. For example, working with the commission, the Florida legislature adopted "Reptiles of Concern" legislation that mandated licenses for owning certain reptiles, including five constrictor snakes, including the Burmese python, and the Nile monitor.
In his March 2010 testimony, Hardin credited those regulations with eliminating impulse purchases, and the subsequent release, of Burmese pythons by uninformed buyers.
"Many non-native species are already in widespread personal possession or are important in Florida's wildlife trade," he testified. "Accordingly, the commission has chosen to pursue a well regulated industry rather than contend with the difficult proposition of controlling underground traffic in popular species.
Advertisement
"As the commission has tightened the requirements to possess Burmese pythons and other reptiles of concern, we have proceeded in a measured way to ensure that we did not inadvertently create a class of value-less, and therefore disposable, animals," his testimony continued. "In short, blanket prohibition of species in widespread possession may have unintended consequences and flexible regulatory approaches are needed."