Interior Secretary Salazar recommits to Burmese python issue in the Everglades.
Secretary of the Interior Ken Salazar today reconfirmed the department's commitment to, and expansion of, existing programs to eliminate Burmese pythons from the Everglades.
"Burmese pythons are an invasive species that have no place in the Everglades and threaten its delicate ecosystem," Salazar said. "We are committed to aggressively combating this threat, including having trained and well-supervised volunteers hunt down and remove snakes. I have also directed my staff to look at the possibility of allocating additional federal resources this fiscal year and I have asked federal and state agencies to work with us to quickly develop an action plan to control this invasive species."
Advertisement
---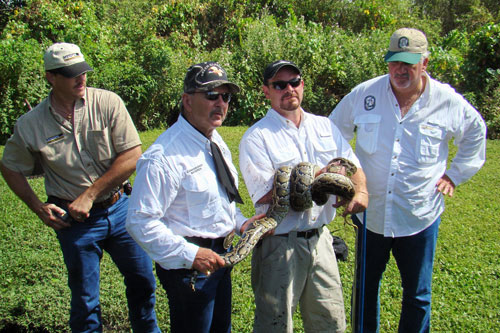 From left, Greg Graziani, a reptile breeder in Central Florida, spotted the 9-foot, 8-inch Burmese python, held by Florida Fish and Wildlife Conservation Commissioner Ronnie Bergenon, permit holder Shawn Heflick, and commission chairman Rodney Barreto. The python was caught in the Everglades on the first day of Florida's python bounty program.
The U.S. Fish and Wildlife Service and the National Park Service, both which fall under Salazar, are advocating a multi-pronged approach to python control, including expansion of an authorized agent python capture program from the Everglades to the 720,000-acre Big Cypress National Preserve and surrounding areas.
Under that program, the Park Service has worked with up to a dozen volunteers that have removed hundreds of pythons over several years. The goal is to provide "more thorough and regular efforts to remove pythons," the government reported. The Park Service is also evaluating the Florida's Fish and Wildlife Conservation Commission's pilot bounty permit system for possible use on Park Service lands.
Advertisement
That program kicked off in mid-July and will run through Oct. 31. Under the pilot program, five reptile experts have received permits to capture and euthanize pythons on lands managed by the commission or the South Florida Water Management District.
Similarly, a pilot "partner with hunters" program is taking place in Big Cypress National Preserve in which the Park Service and Florida Fish and Wildlife Conservation are allowing licensed hunters in the preserve to shoot pythons, a non-game species, if they encounter the snakes while hunting. These programs also provide data regarding the python's habits in a bid to better understand and control the population.
In addition, the two agencies are funding a U.S. Geological Survey risk assessment project designed to help define the scope of the problem and develop "biological/management profiles for nine large constrictor snakes," the government reported, adding that the "the risk assessment will contain information that has broad application to the management of pythons and other large exotic constrictors in the U.S."
That management presumably could include regulations or legislation concerning trade in such species, although the Interior Department highlighted the importance of education and outreach programs such as the Habitatitude responsible pet ownership program, created by a coalition of government agencies and the Pet Industry Joint Advisory Council. These efforts remind the public that releasing snakes and other exotics is a crime and educate about potential impact non-native invasive species can have on natural habitats.
Advertisement
The Park Service has also established a python hotline so the public can report sightings and plans to deploy some prototype traps. Other research efforts include studying python pheromones for use in trapping, using thermal imaging from unmanned aircraft to detect pythons, and various studies, including radio tracking and prey analysis, to better understand pythons in the habitat.
For complementary information read "Burmese Pythons Inhabiting the U.S.?" and "Everglades Burmese Python Program."