ReptileChannel contributor works with the FWC on the Everglades Burmese Python Hunting Program.
Click image to enlarge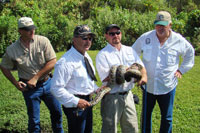 From left, Greg Graziani, a reptile breeder in Central Florida, spotted the 9-foot, 8-inch Burmese python, held by FWC Commissioner Ronnie Bergenon, ReptileChannel contributor and permit holder Shawn Heflick, and commission chairman Rodney Barreto.
On July 17, 2009 the Florida Wildlife Conservation Commission (FWC) and three reptile industry professionals (myself included) kicked off the new Burmese Python Hunting Program for south Florida, along with a multitude of media personnel.
After the initial media conference we all loaded up onto airboats and were treated to a familiarization tour of the habitat in which the pythons have now called home. During the tour we (myself, Greg Graziani and Michael Cole) caught a Burmese python on a small island. This capture soon turned the quiet tour into a circus of media cameras and reporter questions, which continues unabated.
The python we caught was a 9-foot-8-inch female that contained only the digested remains of a single wild rat inside its digestive tract. The FWC requires all pythons to be humanely euthanized, though the specimen seemed to be in good health with substantial fat stores. Several small scars were evident from old injuries, but all other data from the female python was unremarkable.
The three of us had been working with FWC, since a FWC Commissioners Meeting in Crystal River, to try and develop a permit and data collection system that would serve as a pilot program for the eradication of the Burmese python in the greater Everglades. The "Special Permit for Removal of Nonnative Reptiles on State Lands" requires the small, hand-picked group of herpers who were selected to participate, to provide data on length, weight, sex, gut contents, digital images and location to FWC on any Burmese pythons caught during the program within 36 hours of capture. Additionally, all other species of exotics encountered are to be removed as well.
Our goal in working with the FWC is to build relations with them as constituents, represent the reptile community in a good light and to be part of the solution. We have strived to stress the point that this issue is not a public safety issue, but instead an environmental one. All three of us have committed our own time, money and resources in taking up this worthwhile cause. We are urging others in Florida to become actively involved with FWC, and those in the rest of the nation to do the same with the regulatory agencies in their states. Show up to meetings, send emails and letters, and make phone calls. We are, and hope you will, work with these government agencies toward common goals and develop relationships that allow for the exchange of ideas and information.