After six minutes of breathing into the tortoise's nose, the tortoise began breathing again on its own.
How far would you go to save the life of one of your reptiles? This was a dilemma faced recently by a British doctor named Ben Waterfall. He discovered the family's eight year old Hermann's tortoise (Testudo hermanni) floating upside down in a bowl of water in its run, in the back garden of their home in the village of Swimbridge, Devon, in the south-west of England.
When he lifted the tortoise out of the water, Dr. Waterfall realized that it was no longer breathing, and appeared to be dead, with its body being limp and not moving at all. The reptile, named Atlas, was lying on its back, with its hind legs sticking up.
---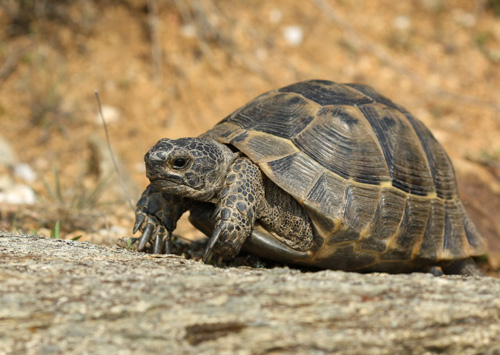 Photo Credit: Thinkstock
Hermann's tortoise
---
Undeterred though, the 34 year-old devoted doctor felt there was still hope, and started performing artificial respiration on the family pet, using his training to good effect. He ended up with Atlas's head right inside his mouth, but the technique worked, and after six worryingly long minutes, the tortoise showed signs of coming back to life. Atlas started blinking and then clearly began to breathe on his own. Dr, Waterfall then continued blowing air into the tortoise's nostrils for a brief period afterwards, to ensure the animal's recovery.
After the Event
When asked what had led him to believe that he would be successful, Dr Waterfall simply explained that he couldn't bear to see the family's tortoise die at such a young age, when, as his wife Subhani had said, Atlas should live longer than either of them.
Advertisement
The couple's two year old son, Harry, remained largely unaware of the drama that had been unfolding out in the backyard, as he was being put to bed at the time. His father later explained to him that Atlas had simply been swimming, in the hope that Harry would have some understanding of what had happened.
After the tortoise's recovery, Dr. Waterfall who works in general practice, arranged for a veterinary check-up, in case water had entered Atlas's lungs, where it could trigger pneumonia. Luckily, there have been no complications though, and Atlas has recovered fully from his ordeal. Meanwhile, Dr. Waterfall has been hailed as a hero, although a number of his colleagues have also seen the funny side to the story.
Breathing Biology
Tortoises are actually very unusual, in terms of their breathing biology and cardiac function. The heart will continue to beat even in the relative absence of oxygen, so that provided the oxygen uptake can be restored, as in this case, so the tortoise can undergo a full recovery.
Experts recommend blowing into the reptile's nostrils up to 20 times a minute, in order to get oxygen back into the circulation of a tortoise that has apparently drowned. It can take as long as 15 minutes to revive the reptile in this way.
Advertisement
Tortoises also cannot rely on their ribs in order to breathe, because these are fused to the shell. Instead, they use muscular action to raise their body organs up against the lungs, reducing the lung capacity and thereby forcing air out. Pressing on the flanks of an unconscious tortoise will effectively serve the same purpose, in activating the muscles that work in this way, aiding the reptile's breathing pattern directly.
Hopefully now though, if provided with a shallower and smaller water bowl, Atlas will carry on without needing artificial respiration again in the future.