Snake that was auctioned off last year donated to zoo by winner.
(Editor's note: Charity Buzz has not released the final selling price for the boa. ReptileChannel reported the current bid for the snake at $1,361.11 on November 9, 2011. Charity Buzz retains 20 percent of the auction total with 80 percent going to Pencils of Promise.)
Justin Bieber's pet boa constrictor, which was auctioned off to support Pencils of Promise, a non profit organization that aims to educate children across the world, has apparently turned up at a zoo in Owatonna, Minnesota, according to gossip site TMZ. Bieber, who showed off the boa constrictor to his girlfriend and other celebrity types at the 2011 MTV Music Awards, has been a long time supporter of Pencils of Promise, and helped the organization to launch the "Schools 4 All" campaign in 2011. News reports say the Rad Zoo in Minnesota said an anonymous donor won the auction for Bieber's pet, Johnson, and donated the snake in hopes that it would have a proper home.
---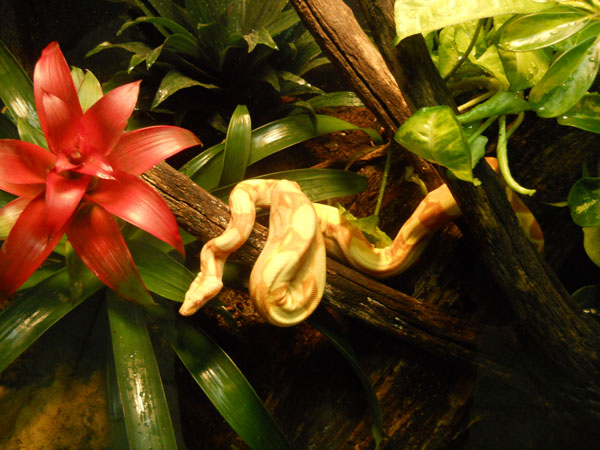 Photo credit: The Rad Zoo.
Justin Bieber auctioned his pet snake and it is now at the Rad Zoo in Minnesota.
---
The Rad Zoo in Owatonna, Minnesota calls itself the state's premier reptile destination. The zoo opened in October 2009 and features a variety of herps, including snakes, turtles, lizards, crocodilians, toads, frogs, and salamanders. Of particular note are Bella, a 14ft python and Big Al, a 12ft alligator.