The All Nippon Airways Hawaiian Honu Airbus A380 is one of three scheduled to fly from Tokyo to Honolulu.
All Nippon Airways, a Japan flagged carrier, showcased a green sea turtle-themed Airbus A380 airplane that will serve the carrier's Tokyo to Honolulu route, in what could be a first for reptile art on a commercial airliner. The plane, which made its public debut December 13 in Hamburg, Germany, is the carrier's first Airbus A380 airplane.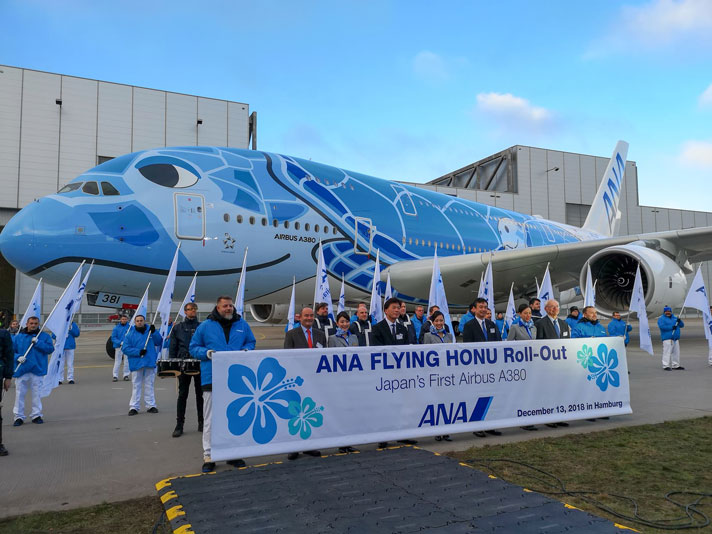 ANA
All Nippon Airways Hawaiian Honu Airbus A380.
The plane is painted to resemble a Hawaiian Honu, or green sea turtle, and is designed by Chihiro Masuoka, the winner of a public competition that featured more than 2,000 entries.
---
How To Save The World's Sea Turtles
Advertisement
---
"We are excited to showcase the largest passenger aircraft and even more excited about the experience it will offer travelers on the Narita-Honolulu route," Yutaka Ito, executive vice president of ANA said in a statement released to the media. "The Airbus A380 will be an important addition to ANA's current fleet and it will allow passengers to reach the scenic islands of Hawaii in comfort and style. The customized livery adds a personal touch that will make the trip that much more memorable."
It is not the first airline to adorn its planes with animals. Alaska Airlines has a salmon on a 737 in support of the salmon industry, and Emirates in 2015 showcased a plane in support of United For Wildlife, which was designed to bring attention to the illegal wildlife trade.
All Nippon Airways didn't disclose on its press release if it was supporting an turtle or tortoise conservancies, but it did showcase a turtle image on social media for World Turtle Day.
Advertisement
ReptilesMagazine.com sent an email to ANA public relations in hopes of getting a response as to whether the Hawaiian Honu adorned airplane is tied to any type of conservation efforts. We will post a response if and when one is made available.