The captive breeding program produced a pair of four-eyed turtles and two Beal's four-eyed turtles.
The Tennessee Aquarium's captive breeding efforts for critically endangered turtles has paid off with not one, but two species of four eyed turtles hatching at the aquarium in May.
Advertisement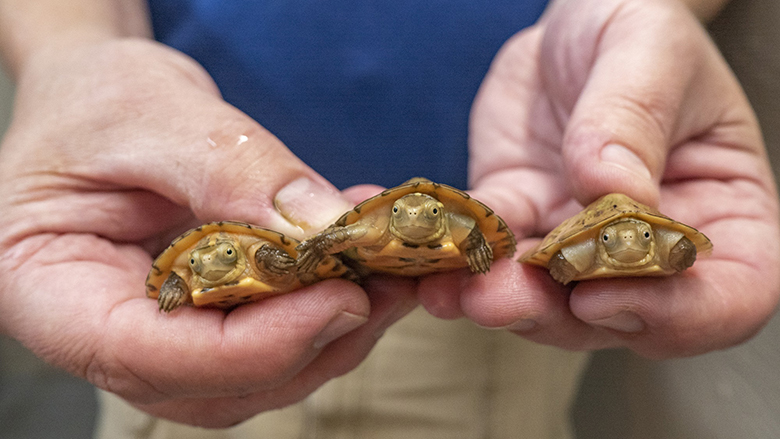 bill hughes
The four-eyed turtles are named as such due to the false eye spots atop their heads.

The program hatched two endangered four-eyed turtles (Sacalia quadriocellata) in the middle of May, and less than two weeks later, staff discovered a single critically endangered Beal's four-eyed turtle (Sacalia bealei). Two weeks after the Beal's discovery, a second Beal's four-eyed turtle emerged.
---
Tennessee Aquarium Hatches 5 Endangered Beal's-eyed Turtles
Advertisement
---
"I still find it cool to see a baby turtle hatching," Senior Herpetologist Bill Hughes said in a statement published on the aquarium's website. "I'd like to see more baby turtles hatching, so one is better than none, and having four successful hatchlings in one season is amazing."
Since 2007, the aquarium, which is accredited by the Association of Zoos and Aquariums, has successfully hatched 17 Beal's four-eyed turtles. During that same time frame, the zoo successfully hatched 40 four-eyed turtles.
"Every year, one of my goals is to have more representation of founders, so if I hatch one, that's more representation," Hughes said. "All of the wild-collected adults among the population in human care are genetically valuable and good for genetic diversity."
The four-eyed turtles (Sacalia quadriocellata) and Beal's four-eyed turtle (Sacalia bealei) are native to Southeast Asia and are endangered and critically endangered, respectively. These turtles only lay a single clutch of two to three eggs each year. The zoo has sent offspring to other zoos in the United States to ensure survivability of the captive specimens.
Advertisement
"There are lots of these turtles at the Aquarium, so if a chasm opened up and swallowed this building, then there wouldn't be that many left, but there are a few that are spread out at other institutions," Hughes said. "We're not keeping all of our eggs in one basket, so to speak.
"And despite the fact that they don't get big, these turtles do take up some room, so you can't keep them all. You have to share the love."
The Beal's four-eyed turtle is native to China and Hong Kong. It is a semi-aquatic turtle that lives in streams and brooks. It is on the IUCN Red List of most endangered turtles.