Florida recorded 39,000 green sea turtle nests during the 2017 nesting season.
The Florida Fish and Wildlife Conservation Commission announced Nov. 17 that the documented number of green sea turtle (Chelonia mydas) nests during this year's breeding season surpassed 2015's record of about 28,000 by 11,000 nests, to approximately 39,000.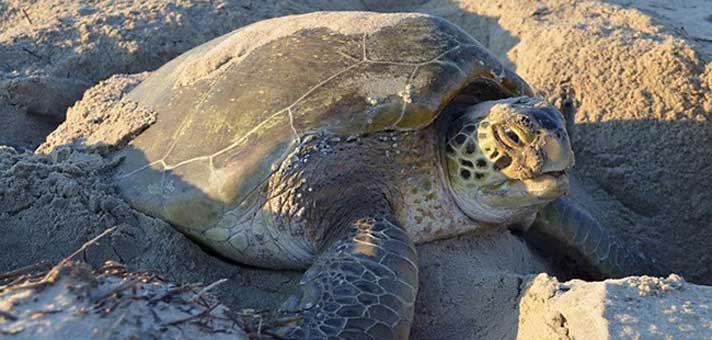 National Park Service
Florida recorded 39,000 green sea turtle nests during the 2017 nesting season.

The success of our green sea turtles is a victory for conservation," FWC Chairman Brian Yablonski said in a statement released by the FWC.
"After years of many people and agencies working to conserve this species and its marine habitats, numbers of green sea turtles in our coastal waters and nesting on our beaches have increased substantially. Last year, the green sea turtles that nest on Florida beaches were reclassified from 'endangered' to 'threatened' under the federal Endangered Species Act."
Advertisement
---
Want To Learn More?
Green Sea Turtle Species Profile
---
The 39,000 documented nests for 2017 is quite impressive, given just 30 years ago, only 464 nests were recorded on Florida's Nesting Beach Survey of 200 miles of beaches. In 2011, the number of nests counted was 10,701, while 25,553 nests were counted in 2013, showing substantial increases for the past six years. According to the FWC, green sea turtles nest more abundantly every other year and the preliminary data shows that turtle nestings have increased significantly in the last 27 years.
"Today's news is great for Florida and shows that our efforts to conserve Florida's natural resources are helping the sea turtle population thrive," Florida Gov. Rick Scott said in the statement. "Florida's beaches not only attract millions of visitors but are also home to abundant wildlife, like sea turtles, which is why my Securing Florida's Future budget builds on our past investments and proposes a record $100 million for beach restoration. I am proud of FWC's hard work to help our wildlife, and look forward to continuing to see record nesting for years to come."
Advertisement
You can view the latest trends in sea turtle nestings on the FWC website.