The 2013 Python Challenge produced just 64 snakes
The 2016 Python Challenge is at the halfway point and so far, 66 Burmese pythons have been captured, including a 13- and a 15-footer. That is two less than the total take from the 2013 hunt. According to a report in the Miami Herald, the snakes have been caught in marshes north of the Tamiami Trail and along the L-67 canal. University of Florida biologist Frank Mazzotti says that necropsies of some of the snakes have turned up mammal hair and in one snake, scutes from an alligator.
Advertisement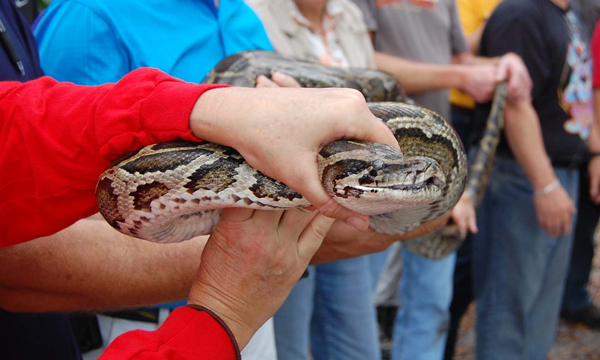 Florida FWC
Pythons are an invasive species in Florida.

The hunt started January 16, with fewer registered hunters than the 2013 hunt. This year, the Florida Fish and Wildlife Conservation Commission better prepared the hunters with training videos as well as python hunting classes throughout the state. The hunt now encompasses 11 state parks and wildlife management areas in South Florida.
Advertisement