It is that time a year. Make your reptile related gift count. Your reptile lover will be thankful!
Reptile keeping is one of the most popular endeavors in the United States with Here we present 10 great Christmas gifts for your favorite reptile lover. According to one study, 4.5 million households in the United States keep reptiles. And since you are on this page, the chances are you and/or someone you know keeps reptiles and/or amphibians. And since it is the season of giving, we present you with 10 great gifts for your reptile lover friends and family.
10. New Enclosure
What better gift than a new enclosure for your herp lover? If your reptile keeper is new to the hobby, chances are he or she bought a starter kit from one of the major reptile product manufacturers, and it is probably time to upgrade that enclosure to a bigger one as the reptile has grown. Snakes especially can benefit from a larger enclosure. And after your reptile lover moves their pet reptile into the new enclosure, they will have an empty enclosure which means, perhaps, another animal to add to the collection!
Snake kits (Corn snakes, kingsnakes, milksnakes, hognose snakes and other small snakes)
Zoo Med 40G ReptiHabitat Snake Kit
Exo Terra Natural Terrarium Medium/Low
Zilla Deluxe 40G CritterCage
Zen Habitats 48″x24″x16″ Meridian PVC Reptile Enclosure
9. UVB Lights
UVB bulbs need to be changed out every 6 to 12 months. It is always good to have spares on hand and a handy notebook so you know when you last changed out your bulbs. In addition to a UVB meter, UVB bulbs make great stocking stuffers. Check the following vendors for the right UVB bulb for your application. Just make sure you know the brand as some bulbs are made specific to the manufacturer's lamps.
Zoo Med
https://zoomed.com
Exo-Terra
exo-terra.com
Arcadia
https://www.arcadiareptile.com/lighting/
Zilla
ZillaRules.com
Bean Farm
beanfarm.com
8. Reptile Hides
A good hide would make an excellent addition to any reptile lover's Christmas list. Hides are a perfect complement to your reptile's enclosure as they provide a level of security for the animal. They are often the place in which they go to sleep. There are plenty of commercial and non-commercial hides on the market that will do the job nicely for your gift receiver's reptile enclosure. Consider hollowed out logs, coconut shells, driftwood, and commercial hides such as animal skulls, bridges, caves and other decor that has a cave or hide-style element. Hiding is a natural instinct for reptiles and they will use those hides with gusto.
Zoo Med Habba Hut
https://zoomed.com/habba-hut/
Zilla Hides
bit.ly/3HOBqib
Exo Terra Hide Outs
http://www.exo-terra.com/en/products/hide_outs.php
Bean Farm Collections/Hides
https://beanfarm.com/collections/hides
Galapagos Hides
bit.ly/3j5QI7M
7. Feeder Foods Gift Certificates
A RodentPro.com, ReptileFood.com or TimberlineFresh.com gift certificate is a gift that will keep on giving throughout the year. A gift certificate is the perfect gift for your reptile and amphibian keeper because these feeders can be delivered straight to their door. No need to go out looking for feeder insects or frozen rodents when they can be shipped!
ReptileFood.com
https://reptilefood.com/collections/all
RodentPro.com
https://www.rodentpro.com/categories/supplies/gift-certificates
Timberline Fresh
https://store.timberlinefresh.com/GiftCert_sendvia.asp
6. Substrate
What better gift for your reptile and amphibian keeper than a couple fresh bags of substrate? Throughout the year, your reptile/amphibian keeper will most likely be cleaning and refreshing the homes of their pets, and substrate plays a vital role in the health and well being of their pet herps. There is a variety of substrate available for herps, just ask your herp lover what they use.
Bean Farm Bedding and Cage
https://beanfarm.com/collections/bedding-and-cage
Exo Terra Substrates
http://www.exo-terra.com/en/products/substrates.php
Prococo
www.prococo.com
Bean Farm
beanfarm.com
Zilla Bedding
https://www.zillarules.com/all-products/bedding
Zoo Med Cage Substrates
https://zoomed.com/category/terrarium-products/cage-substrates/
5. Reptile Vitamins
Reptile vitamins and calcium are an important component of the diets of your lizards, turtles and frogs. They ensure that your herps are getting a good and balanced diet. These products make great gifts!
Bean Farm Health Care
https://beanfarm.com/collections/health-care
Exo Terra
http://www.exo-terra.com/en/products/nutrition.php
Rep-Cal Research labs
RepCal.com
Zoo Med
https://zoomed.com/category/terrarium-products/vitaminssupplements/
4. Temperature Gauge/Gun
We all know reptiles are cold-blooded and require external heat sources to survive. Heat is the most important aspect of keeping reptiles, and a quality temperature gauge and or heat gun is imperative for the health of reptiles. Those new to reptile keeping may not have a good quality thermometer or heat gun, so what better time than now to gift them one. There are many on the market and they can be found every where from your local reptile store to your local home improvement store. Some combine a thermometer with a humidity monitor, ideal for knowing the temperature and humidity at a glance. Gift them a high quality thermometer and temperature gun.
3. Membership to USARK
The United States Association of Reptile Keepers fights bad legislation that limits our rights to keep reptiles. It is only $20 a year for students and $40 a year for everyone else and includes a free USARK T-Shirt. https://usark.org/memberships/
2. Free ReptilesMagazine.com Newsletter Subscription
Get the ultimate guide for owners and others interested in these fascinating exotic animals. It is FREE!
https://reptilesmagazine.com/newsletter/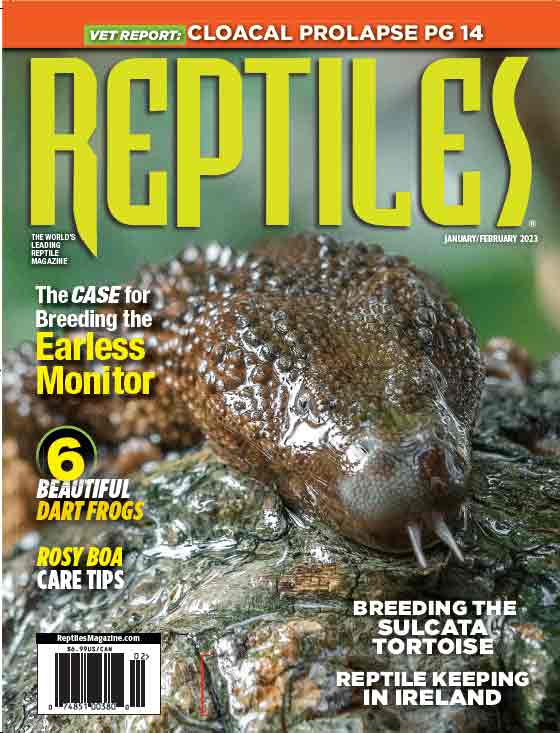 1. Subscription to REPTILES magazine.
You will give the gift that keeps on giving six times a year for the great price of just $19.97 a year. The magazine is chock full of care and breeding information, reptile health, reptile conservation, and herping expeditions! http://bit.ly/3hAlLZ2