It was previously thought that just a single species of legless lizard, Anniella pulchra existed in the California.
Herpetologists Theodore J. Papenfuss of UC Berkeley's Museum of Vertebrate Zoology and James F. Parham of California State University, Fullerton have discovered four new species of legless lizard in California and have published their findings in the Journal Breviora, which is published by the Museum of Comparative Zoology at Harvard University. It was previously thought that just a single species of legless lizard existed in the state, but the discovery of four new species brings to five the number of known legless lizards that call California home.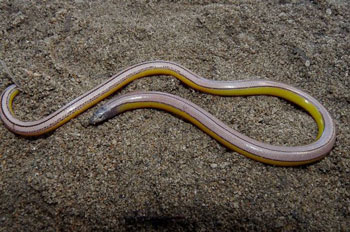 The Bakersfield legless lizard (Anniella grinnelli). Photo by James Parham
The two scientists have been studying and collecting legless lizards for the last 15 years and noticed that the coloration of the lizards, the number and the arrangement of their scales, as well as the numbers of their vertebrae were different. A DNA analysis of the specimens as well as those in museums confirmed that they were indeed distinct species.
---
Want to Learn More?
The Scheltopusik: A Legless Wonder
---
The lizards were discovered in unusual areas, including the sand dunes of Antioch, on the fringe of a runway at Los Angeles International Airport, the oil fields of the San Joaquin Valley, a remote canyon east of the Sierras and an empty lot in Bakersfield.
Click image to enlarge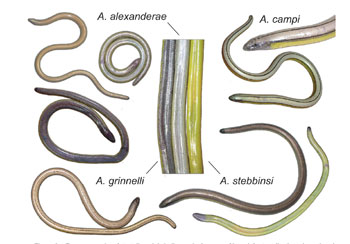 Four new species of legless lizards were discovered in California. Photo by Breviora
The lizards were named after four UC Berkeley naturalists who have contributed their knowledge to the university over the years. Anniella stebbinsi is named for Berkeley lizard specialist Robert C. Stebbins. Anniella alexanderae is named for Annie Alexander a Berkeley philanthropist and amateur naturalist who in 1908 donated $7,000 to the university to build the Berkeley Zoology museum. Anniella grinelli is named after Joseph Grinell, the first director of the museum that Alexander donated money to found, and an expert wildlife of the Sierras. Anniella campi is named after Berkeley paleontologist Charles Lewis Camp, who was also an early director of the UC Museum of Paleontology.