Click image to enlarge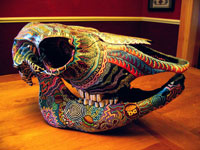 Painted Cow Skull

Mystery Skull Challenge
Here I go again, shilling some of the features of ReptileChannel. But I only do it because I think you'll enjoy checking these things out.
Herper Headshotz, which I mentioned briefly in a past blog even before it was officially a part of the site, is now up and running. It's our new weekly I.D. game, where you are shown a photo of a reptile industry figure – it may be a breeder, retailer, company owner, magazine editor … you never know who may show up – and asked to guess not only the identity of the person pictured, but also bits of information about him or her, choosing from multiple choice answers. Past Herper Headshotz quizzes are always available, the only difference is you can't earn points.
Advertisement
I for one am really enjoying Herper Headshotz. Many of the people who are featured I've known for years, but it's fun to learn something new about them, even things such as their favorite books and movies. It's a fun little contest, you can earn Club Reptile reward points for playing, and you'll learn about a bunch of people you may encounter during your reptile travels, especially if you visit reptile expos because that's where we're taking a lot of the photos for Herper Headshotz!
Who knows, maybe Herper Headshotz will someday dethrone ReptileChannel's still-reigning King of Contests: The Mystery Skull Challenge. In case you don't know, this is a monthly contest in which you are shown a photo of a herp skull and given a clue as to its identification. Later the answer is provided. Past MSC contests are posted on the site, too, so you don't have to miss any.
Ever since it began appearing on the site back in November 2007, MSC has grown in popularity by leaps and bounds. As one who is quite fond of skulls it's easy for me to understand why. Combine the coolness of reptiles with the intriguing nature of a skull and what's not to love? Shawn Heflick operates an animal skull and articulated skeleton business called Art By Evolution, so he was the perfect person to approach to helm this super popular column and he has done a great job with it. Thanks Shawn!
I once mentioned that I enjoy photographing cemeteries during my travels. And now here's another admission: I've always been interested in skulls and skeletons, too. I collect folk art, much of it Mexican folk art affiliated with Dia de los Muertos, otherwise known as the Day of the Dead. Therefore, my house is filled with many wooden and clay skeleton sculptures, masks, wall hangings and the like. I always wonder if first-time visitors to my house think I'm a devil worshipper or something. As a matter of fact, I had a plumber out to my place last Friday. He, though, was intrigued by my collection and we got to talking about masks. He was from Africa, and when he lived there he would sell African masks to tourists. He told me some interesting things about the African carver communities who would make masks and sculptures. Then he removed a sponge that had gone down and jammed up a drainage pipe from my sink, and charged me $99.
Animal skulls, too, have interested me ever since I was a kid. I remember one day when I was probably about 8 years old or so, I was playing in a field when I came across a dog skeleton bleached and dried out in the sun. I brought a bunch of the bones, including the skull, home with me. I wonder what my parents thought when I first began exhibiting my fascination with skulls and skeletons. From what I remember they were tolerant of it, and I brought bird skulls and other bones I would find in the woods and fields home. Sometimes I would dissect owl scat to uncover the teeny bones of the owl's prey.
Advertisement
Over the years I've had a variety of animal skulls, including alligator skulls, snapping turtle skulls, goat skulls, horse skulls, cow skulls (the most common skull you'll find), various rodent skulls and others. I even had an honest-to-goodness human skull for awhile that was given to me by an artist friend whose wife was creeped out by it. He recently took it back. There was something his wife wanted him to do, which he used as leverage to get his skull back. My friend's is the only marriage in history that I know of in which the husband bartered with his wife in order to get permission to reacquire a human skull.
I have incorporated some animal skulls into my own artwork (I paint and sculpt, but mostly paint). I've painted a cow skull and a goat skull. I've included a photo of the cow skull with this blog. It's meant to be a tribute to the cow, hence the hamburgers, steaks and milk bottles that were worked into the design. Years ago, a freelance magazine writer I knew wrote a blurb about me in Orange Coast magazine because of my skull-painting proclivities. You'd think that she thought people who paint animal skulls were weird and worth reading about. Or something.
One night, while I was working on the cow skull, horror novelist Clive Barker was on a local radio talk show I was listening to. I'm a fan, so I called in to see if I could get through — and I did. Soon I found myself talking to Clive, who at one point asked me what I was up to that evening. I told him the truth, that I was painting a skull. "Are you talking about a representation of a skull on canvas, or an actual skull?" he asked me. I told him it was an actual skull. "Now why did I know you were going to say that?" he asked.
Be sure to test your cranial, not to mention reptilian, knowledge by playing ReptileChannel's Mystery Skull Challenge. And don't forget to see if you can guess who the monthly Herper Headshotz subject is, too!
Advertisement