Russian tortoise was found taped to balloons and hanging in eucalyptus trees in Oceanside, CA.
A Russian tortoise (Testudo [Agrionemys] horsfieldii) that was rescued last summer in Oceanside, Calif. after it was taped to a bunch of helium balloons and set aloft, has been adopted. The tortoise has a new home at Mission Trails Park in San Diego, where Alicia Berg, educational program instructor at the park, will serve as caretaker for the tortoise, named Thomas. Berg told 10 News that Thomas will go out with her on educational field trips to area schools where she will tell the story of what happened to Thomas and teach school children how to treat animals.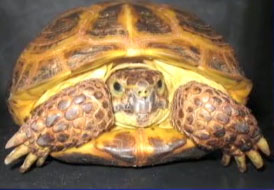 Oceanside Humane Society
Thomas the Russian tortoise will spend the rest of its years helping to teach children how to care for animals
Thomas was spotted August 19 high up in a eucalyptus tree, duct taped to a bunch of balloons with his legs flailing about. A gust of wind blew the balloons to the ground and the reptile was taken in by the Oceanside Humane Society. According to 10 News, the humane society has substantial evidence against the person(s) responsible and is still following leads on the case.
Russian tortoises grow to about 8 to 10 inches and can live for more than 40 years. They are widely captive bred and due to their size, are ideal for those with limited space to keep them. You can read the care sheet for the Russian tortoise here.