Bibi, a female, kept attacking Poldi, a male, which resulted in a new enclosure for Poldi.
The relationship between a pair of Galapagos tortoises (Geochelone (Chelonoidis) nigra), together for 115 years, apparently is on the rocks, according to a report on CNN. The Galapagos tortoises Bibi and Poldi, longtime residents of a zoo in Austria, apparently had a good relationship for more than 100 years until the zookeeper noticed that Bibi, a female, attacked and bit off a chunk of Poldi's shell. She continued to attack Poldi until the zookeeper moved him to another enclosure. The zookeeper, Helga Happ has brought in experts to try and get them back together, have fed them so-called romantic food, but nothing has worked. "But for no reason that anyone can discover they seem to have fallen out. They just can't stand each other," Happ said.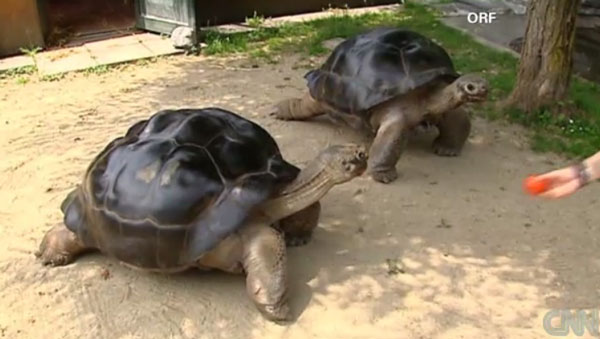 CNN screen grab
Bibi and Poldi, two Galapagos tortoises have apparently called it quits after 115 years together
The Galapagos tortoise is native to the Galapagos Islands and can live up to 150-175 years in captivity. They can weigh more than 500 pounds. Recently, scientists studying the Galapagos tortoise have determined that the once thought extinct Chelonoidis elephantopus species that lived on Floreana Island is living on Isabela Island based on a 2011 DNA analysis of more than 1600 tortoises living on Isabela.