Discovery marks the first time that these pesticides were found in wild frog tissue.
The pesticides Pyraclostrobin, Tebuconazole, and Simazine have been detected in wild frog tissue in California's Central Valley, according to a study published by the Wiley Online Library. The study, Accumulation of Pesticides in Pacific Chorus Frogs (Pseudacris regillia) from California's Sierra Nevada Mountains, USA, took a look at contamination rates of Pacific chorus frogs in remote mountain areas and national parks and found the three pesticides in the tissues of these frogs, even though the frogs are miles from farmland that use these pesticides on crops. The scientists say that their study supports past research on the potential transport of pesticides by weather elements such as wind and rain.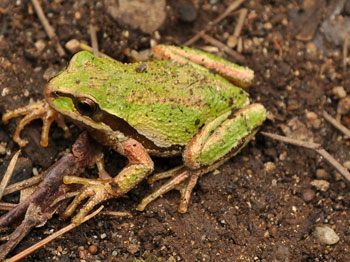 Pacific chorus frog. Photo by The high fin sperm whale/Wikimedia Commons
"Our results show that current-use pesticides, particularly fungicides, are accumulating in the bodies of Pacific chorus frogs in the Sierra Nevada," Kelly Smalling a research hydrologist from the U.S. Geological Survey said in a statement released by Wiley. "This is the first time we've detected many of these compounds, including fungicides, in these remote locations."
Advertisement
---
Want to Learn More?
Frogs Die Quickly When Exposed to Pesticides
Herping California's Channel Islands
Advertisement
---
According to the paper, the scientists collected the frogs and took water and sediment samples from seven ponds in an area that spanned from Lassen Volcanic National Park at the northern most point of the Central Valley to Giant Sequoia National Monument in the valley's southern region, all downwind from valley farms. Smalling said that the samples were tested for 98 types of pesticides and found pesticide traces in frog tissues collected from all seven sites. Smalling said that frogs living in the most remote mountain locations were found to have been contaminated by pesticides that traveled long distances via dust and rain. The fungicides Pyraclostrobin and Tebuconazole and the herbicide Simazine were detected the most in the frog tissue, marking the first time that these pesticides were found in wild frog tissue.
Advertisement
"Very few studies have considered the environmental occurrence of pesticides, particularly fungicides which can be transported beyond farmland," Smalling said. "Our evidence raises new challenges for resource managers; demonstrating the need to keep track of continual changes in pesticides use and to determine potential routes of exposure in the wild."
An abstract of the paper can be found on the Wiley Online Library website.