Tripod, mauled by a dog, was at the center for two months when he was adopted.
A three-legged desert tortoise (Gopherus sp.) who was mauled by a dog in Arizona and later ended up at the Arizona Game & Fish Department Wildlife Center, has been adopted. The 30- to 50- year-old reptile, named Tripod, was attacked by his previous keeper's dog. Veterinarians had to amputate his left front leg.
---
Read More
Desert Tortoise Habitat Opens In El Mirage, California
New Desert Tortoise Species Discovered and Described
---
Unlike other tortoises that are sometimes adopted a day after they arrive at the center, Tripod had been living at the facility for two months until Steve McNamee and his wife, Alison Marli adopted him, according to officials with the center.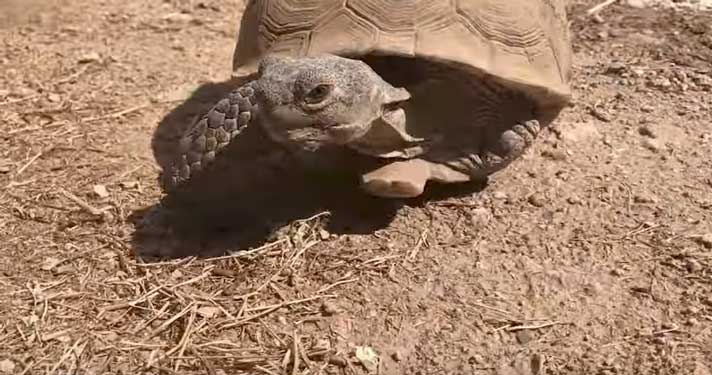 Advertisement
Arizona Game & Fish Department Wildlife Center
Tripod had his leg amputated after he was mauled by a dog but is doing better with his new family.

The center currently has more than 75 desert tortoises, some of which are the result of captive breeding.
"These are juveniles, these are babies," Wildlife education coordinator with Arizona Game and Fish Mike Demlong told Fox 10 Phoenix. "This is part of the problem, like with dogs and cats. People are breeding these tortoises when they shouldn't."
Advertisement
Check out a video of Tripod uploaded to YouTube earlier this month.
Advertisement
If you are a permanent resident of Arizona and wish to adopt a desert tortoise, you can fill out an application on the Arizona Game & Fish website. You can also find information on caring for the desert tortoise on the website as well.