The winner of REPTILES magazine's "Creature Teacher" contest.
To say the least, the response to the REPTILES "Creature Teacher" contest was impressive. There are many dedicated teachers out there, which made selecting just one difficult.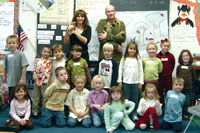 Elaine Marshall
Creature Teacher Elaine Marshall (back row left) with her class and "Reptile Rob."
But Elaine Marshall, a kindergarten and first grade teacher in Westhampton Beach, N.Y., really stood out. She is the REPTILES Creature Teacher.
Impressive Contributions
Keeping herps in the classroom and at home, Marshall gains (and keeps) her students' attention by incorporating these pets into her lesson plans, and they help to teach kids about life cycles, and the importance of biomes and the animals living within them. She arranges for "Reptile Rob," a local pet store owner and friend, to visit and share animals with her class. Her students also have participated in school presentations to educate the community about herps and their environmental importance, and they've worked on reptile-related exhibits at a local art museum.
In other words, Marshall does more than talk about and display reptiles and amphibians in her classroom, she uses them to make an impression on her students that could last a lifetime.
Advertisement
Marshall gave us several examples of this, such as a classroom project in which her students created habitats for the class eastern spotted newt.
"My students learn that each creature has a place on this earth and that they have specific needs," she said. "Creating healthy, safe and naturalistic habitats is fun for them and important for the herps we keep."
Although Marshall makes use of other learning materials in her classroom, she believes nothing can compare to the hands-on experience her students get when interacting with the animals. "As I watch the eyes of little ones light up, I always feel like saying, 'I know how you feel,'" she said.
We agree. Congratulations, Elaine Marshall. You've earned the title of REPTILES Creature Teacher! —Eds.
Advertisement
Critter Crew
Both at home and in her classroom, Elaine Marshall has kept many herps over the years. Her critter crew has included:
red-eared sliders
leopard tortoises
iguanas
bearded dragons
uromastyx

anoles
blue-tongued skinks
ball pythons
Burmese pythons
corn snakes

newts
tiger salamanders
red-eyed tree frogs
cane toads
green tree frogs
Creature Teacher Prizes
Elaine Marshall will receive: a certificate from REPTILES magazine proclaiming her as the official REPTILES Creature Teacher.
PLUS

A year's subscription to REPTILES for every student in the Creature Teacher's classroom.

Advertisement

A pair of sunglow leopard geckos from The Urban Gecko.

A 20-gallon long tank with a screen top from glasscages.com.

Lighting, décor and accessory supplies from Zoo Med.

Advertisement

A Juragon Reptile Incubator from Kemp's Incubators.


One-year membership, books and a $100 gift certificate from the International Reptile Conservation Foundation.