The Pambianco's 800 square foot store is now 12,000 square feet.
Welcome to The Pet Zone. Be prepared to see exotic animals of all kinds at this store, but inside the area known simply as The Cave, you can experience delights of a reptilian nature. Home to two 6-foot American alligators, Cupcake and Buster, and a 5-foot black-throated monitor named Charcoal, this educational mini-zoo houses the store's private collection of herps, some of which are venomous.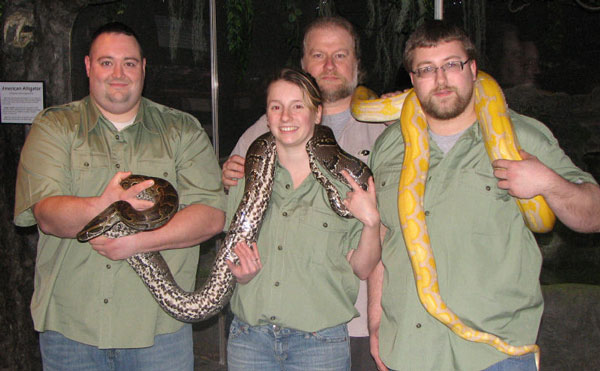 Pet Zone, from left, Jason Bartoli, Megan Marsh, Will Pambianco Sr. and Will Pambianco Jr.
Those who fancy the unusual can even have their birthday party within this unique venue, or they can opt to have it at their home with animals from The Pet Zone as star guests and staff members to orchestrate the affair.
When owners Bill Pambianco Sr. and his wife, Michelle, first opened the business in 1985, they started with 800 square feet, and filled it with fish and corals, which are Bill Sr.'s passion. But their son, Bill Jr., had an enthusiasm for all things reptile, and this soon provided them with an even more exotic opportunity. At the age of 7, the young Pambianco was already breeding a large variety of herps, and it just made sense to expand the store's inventory, and ultimately, its square footage. Today, the store resides across the street from its original location and takes up an impressive sprawl of 12,000 square feet. It boasts an extensive selection of reptiles, birds, ferrets and fish, among the usual fare of cat and dog supplies.
---
Cave Critters
A few of the many animals you will see within the cave include:
Advertisement
American alligators, black-throated monitor, southern copperhead, rhinoceros viper, western diamondback rattlesnake, eastern diamondback rattlesnake, beaded lizards, Gila monsters, albino manacled cobra, cottonmouth, Uracoan rattlesnake, prairie rattlesnake and a western Gaboon viper.
---
The Pambiancos lean toward quality items, and they urge their customers to research an animal and its needs first before ever bringing one home. Their focus on education and animal health has taken many different forms over the years, including sponsoring a rabies clinic and participating in community education programs, but the idea for The Cave came about thanks to the efforts of Bill Jr. and his friend, Jason Bartoli. Housed in the store's basement, their creation soon grew in size and popularity. Run by Bill Jr., Jason and his wife, Megan, The Cave's appeal stretches across age and gender, and it is not unusual to find both adults and children enthusiastic about visiting the animals held within.
If you are passing through Pittston, Penn., or live in the area, stop by and check out the store for yourself. The staff and animals are sure to please.
The Pet Zone
20 West Oak Street
Pittston, PA 18640
570-655-3260
zonepets.com