Tetrafauna's Viquarium won two awards at SuperZoo 2010.
Click image to enlarge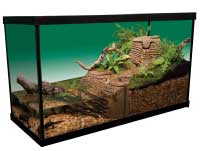 Tetrafauna's Viquarium was one of the new, innovative products that pet retailers saw at SuperZoo 2010 this year.
Tetrafauna's Viquarium was recognized at SuperZoo 2010, a show for pet retailers. The Viquarium won first place in Overall Best in Show and first place in the reptile category during the show's third annual New Product Awards, according to the company.
Buyers attending SuperZoo voted on their favorite items from the SuperZoo New Product Showcase during the first day of the show. First through third place awards were given to exhibitors in seven categories: aquatic, bird, cat, dog, reptile, small animal and miscellaneous.
SuperZoo 2010 was held in September at the Mandalay Bay Convention Center in Las Vegas.
The Viquarium is a land and water feature that fits into most 20- to 55-gallon aquariums and provides water filtration.