Phoenix Herpetological Society is caring for lost Centrochelys [Geochelone] sulcata.
A large Sulcata tortoise (Centrochelys [Geochelone] sulcata) that was helped across a desert road in Scottsdale, Ariz., is now being cared for by the Phoenix Herpetological Society. According to a report on AZCentral.com, motorists driving along a busy road Jan. 21 spotted the African tortoise crossing the road and pulled over to help it across. The society received a report that a large tortoise was helped and officials there became concerned for the chelonian's well-being.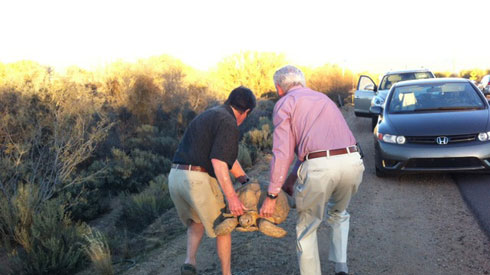 Photo by Kathy White
Sulcata tortoise.
"The tortoise may face a stressful situation if temperatures get too cold. It can be serious, they never see weather in the 40s," society President Russ Johnson told AZCentral. The society located the tortoise by Jan. 23 on a ranch and took possession of the reptile, noting that it was healthy and eating normally. The society will keep the tortoise until the owner recovers it. This isn't the first time the tortoise apparently escaped as a ranch worker saw the same tortoise about two years ago on the ranch property, the report said.
The Sulcata tortoise is also known as the African Spur-thigh tortoise or African Spurred tortoise. They are widely bred in the United States. Adult males can grow to 200 pounds and it is said that they can live more than 70 years. They are best kept outdoors due to their size.
Advertisement
Watch a Quick-Care video of this amazing tortoise.