More regular checks advised to safeguard the well being of these reptiles.
Duck nest boxes used to aid cavity-nesting ducks can prove to be turtle death traps.
That was the discovery made by University of Cincinnati Educator Associate Professor Denis Conover, of the Department of Biological Sciences in UC's McMicken College of Arts and Sciences, when he came upon a duck nest box in the wetlands of southern Ohio's Miami Whitewater Forest.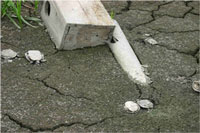 Denis Conover and Karen Cody
Dead turtles removed from downed duck nest box in dried up pool at Shaker Trace Wetlands.
The box had tipped over. Turtle corpses were strewn about the mud and mire surrounding the fallen nesting box. Several species of turtle had been trapped by the box, and not all of them made it out alive.
Raising awareness
Conover's concern for the turtles' welfare led him and co-authors Wayne Wauligman and Karen Cody, a naturalist, to write "Tipped Over Duck Nest Box Traps Turtles in a Restored Wetland" (Ohio), to raise awareness about the problem of improperly maintained and monitored duck nest boxes. This research is being presented at the Kansas Herpetological Society's (KHS) annual meeting in Wichita, Kansas, Nov. 4-6, 2011.
Advertisement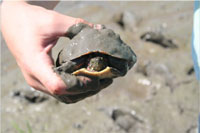 Denis Conover and Karen Cody
Living painted turtle (Chrysemys picta) removed from the downed box.
Although they are usually beneficial, duck nest boxes—in the form of a nesting box attached to a pole driven into the wetland ground—are often erected in wetland areas to provide nest sites for cavity-nesting ducks such as wood ducks and hooded mergansers. In fact, duck nest boxes have been put up in many wetlands throughout the United States and Canada and have helped with increasing wood duck populations.
Advertisement
Yet as these observations show, improper care of these boxes can have devastating effects on wetland turtles. Conover writes that "if a pole gets tipped over and the box gets into the water, these duck nest boxes can serve as death traps for turtles."
All species at risk
In Conover's case, the three species of trapped turtles—painted (Chrysemys picta), snapping (Chelydra serpentine) and box—are not endangered in Ohio. But other neighboring wetland areas, such as the Beaver Creek Wetlands, Spring Valley Wildlife Area, and Cedar Bog, may harbor species like the spotted turtle (Clemmys guttata) that are significantly rarer. They too are equally vulnerable and may also be affected by overturned duck nest boxes.
Duck nest boxes are typically monitored and maintained during the winter or just before the breeding season, but Conover suggests that it "should probably be done more frequently." Periodically checking on duck nest boxes throughout the year can clearly help reduce the dangerous and sometimes fatal consequences overturned boxes can have on turtles.
"Our goal is to reduce suffering and death of turtles by warning land managers about the threat to turtles that downed duck nest boxes can pose." he explains.
Advertisement