Long thought extinct, Pseudophilautus stellatus found in Sri Lanka's Peak Wilderness park.
The starry frog, (Pseudophilautus stellatus) first described in 1853 by physician and naturalist Edward Frederick Kelaart only to disappear along with its holotype has been rediscovered in Sri Lanka, which was a British colony known as Ceylon when Kelaart first described the amphibian.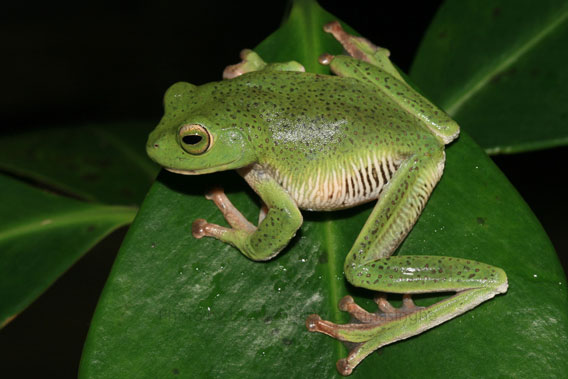 Photo by L.J. Mendis Wickramasinghe.
Starry frog.
The frog, about two inches long with lime green skin and white specks outlined in black was rediscovered during a herping expedition into Sri Lanka's Peak Wilderness. According to L.J. Mendis Wickramasinghe, lead author of the paper "Lost and found: One of the world's most elusive amphibians, Pseudophilautus stellatus (Kelaart 1853) rediscovered," told mongabay.com that the expedition yielded 78 starry frogs. The frogs were seen perching on leaves in the rainforest canopy and were slow-moving. The researchers initially thought they had stumbled upon a new species, but after reviewing past work and especially works on extinct species, they concluded that the frog was not a new species, but rather Pseudophilautus stellatus, or the starry shrub frog that went "missing" from the annals of scientific history more than 160 years ago.
Want to read more?
Advertisement
---
"We worked in [parts of the Peak Wilderness Sanctuary] where previous studies had never taken place, in tough and rugged conditions, so hardly any researchers had actually gone to these sites," Wickramasinghe said. Wickramasinghe said that the species should be classified as critically endangered given the scarcity of the amphibian, its small and specialized habitat, and the fact that it is facing an onslaught of human activity, including expanding tea plantations, illegal gem mining, pollution from religious pilgrims and a phenomenon known as forest dieback, which is a loss of forest canopy cover and death of peripheral plants due to parasites, acid rain and other conditions of climate change.
"To know that this species is not gone forever and that we do have a second chance of preserving it is indeed beyond belief!" Wickramasinghe said.
Advertisement