Haast was first bitten by a venomous snake at 11 years old
One of the most vocal proponents for snake venom research has died. William "Bill" Haast, director of the Miami Serpentarium Laboratories (which he operated from 1947 to 1984) died June 15 at the age of 100. Haast was well known in the venomous snake community for his propensity to inject himself with snake venom for research purposes.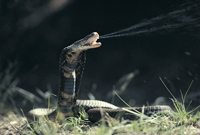 Advertisement
For years, Bill Haast would milk cobras and other venomous snakes to rapt audiences at the Miami Serpentarium
His handling of venomous snakes caused him to get bitten 172 times as of 2008, according to his page on Wikipedia. According to Wikipedia, Haast first developed an interest in snakes as an 11-year- old Boy Scout while at a Boy Scout summer camp. The following year, he was bitten by a Timber Rattlesnake, and was said to have applied the standard snake-bite treatment at the time, was then sent to see a doctor but recovered with no further treatment. Haast went out of his way to save people who were bitten by venemous snakes. The New York Times says Haast made a trip into the Venezualan jungle, donating a pint of his blood to save the life of a boy who was bitten by a venemous snake. The favor was returned in 1989 when he was bitten by a Pakistani pit viper. According to the Associated Press, the White House was able to get a serum out of Iran to treat Mr. Haast.
For an interview with Bill Haast, click here
For more on Bill Haast's life, click here