This sea turtle was entangled in bales of cocaine. It was freed by the U.S. Coast Guard.
The crew of the U.S. Coast Guard Southeast Cutter Thetis, during a 68-day counter drug patrol in the Eastern Pacific, saved a sea turtle that became entangled in a dumped shipment of cocaine worth an estimated $53 million.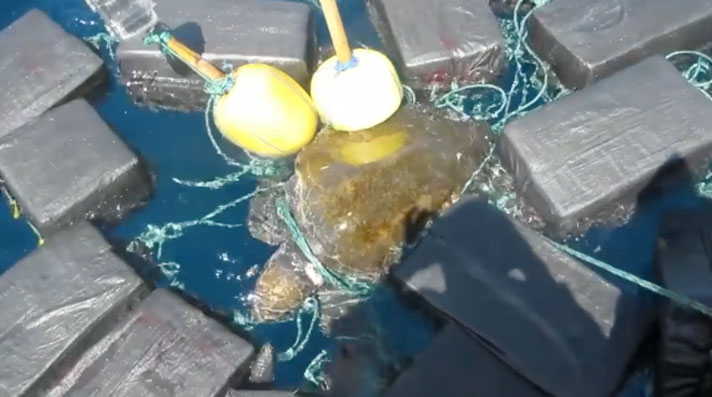 U.S. Coast Guard
This sea turtle was entangled in bales of cocaine. It was freed by the U.S. Coast Guard.
While the Thetis cutter was on patrol with the Pacific Tactical Law Enforcement Team and the Royal Canadian Navy, they came upon a large shipment of cocaine that was floating on the surface of the water. Within those bales of drugs, was a large sea turtle, struggling to keep afloat on the surface.
---
Want To Learn More?
Leatherback Turtle Rescued by New Jersey Coast Guard
Coastguardsmen Untangle Two Sea Turtles Caught in Fishing Line Off Central America
---
Coast Guard Ens. Mark Krebs, the patrol's mission commander at the time said when his team arrived on the scene they saw the reptile struggling, with massive chaffing to the reptile's neck and flippers, caused by the contraband's rope that tied the shipment together. After briefing the commanding officer, coast guardsmen went to work, carefully cutting the lines that trapped the sea turtle. After the turtle was freed, the crew recovered more than 75 feet of rope to prevent it from causing any more harm to sea life.
The counter patrol, dubbed Operation Martillo, was successful in freeing one large sea turtle, and seizing 6,755 kilograms of cocaine, 14 pounds of marijuana and apprehending 24 suspected drug smugglers during eight separate operations. Thank you to all for not only saving the sea turtle, but also for keeping drugs away from those who use them.