Win cash prizes! The REPTILES Tat Attack! tattoo contest is here!
The contest has now ended. Thank you to those who have entered. Winners will be announced soon so stay tuned!
Our first herp tattoo contest was held in 2004, and since then the biennial REPTILES Tat Attack tattoo contest has turned into one of our all time most popular contests! I'm often asked when the next one will be, so here you go, reptile tattoo fans–the 2012 Tat Attack contest is here.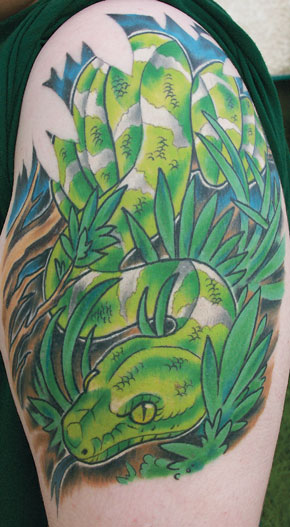 2008 Tat Attack! first-place winner Owen Tardi-Richards' tattoo of an emerald tree boa.
How to Enter
Send photos of your tats. Submit as many as you wish, whether they are multiple photos of a single tattoo or photos of several tattoos.
Email photos to Reptile Editor@ Reptile Channel.com. Type Tat Attack 2012 in the subject field of each e-mailed submission.
Advertisement
Photos can be mailed to REPTILES, Tat Attack 2012, P.O. Box, 6050, Mission Viejo, CA 92690.
Tattoos must belong to the person entering the contest, and all tats must be clearly visible in your photos. By entering the contest you are verifying that you are at least 18 years old.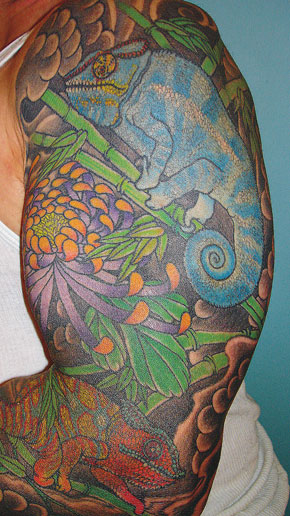 Second place in 2008 went to Chuck Gochnour's tat that featured panther chameleons.
Advertisement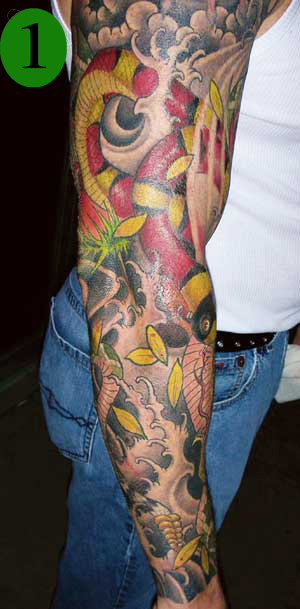 Jason Ballard's first-place-winning tat from the 2010 contest.
Advertisement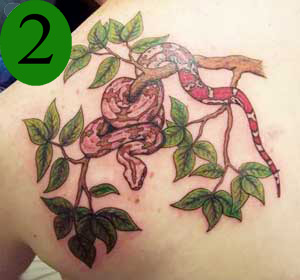 2010's second-place winner: Zachary Greenberg's boa tat.
Advertisement
Digital images must be a minimum of 300 dpi and sized 5 inches by 7 inches.
Your complete name, address and telephone number must be included with each entry, along with a description of your tattoo(s), where on your body they appear and the animal species that inspired them. Feel free to include any background info you wish (e.g., a pet inspired the tattoo, if it's your favorite species, etc.).
Please remember Reptile Channel.com and REPTILES magazine is a family-oriented magazine. Entries that might be considered offensive should not be submitted. Use your best judgment in defining "offensive." REPTILES reserves the right to disqualify any images the editors deem unsuitable for any reason.
Who Should Enter
Anyone 18 years of age or older with a terrific reptile or amphibian tattoo is eligible to win the contest. Tattoos based on actual herp species are great, but we also welcome photos of tattoos that use real species as a jumping-off point for their designs. For instance, two entries from past contest included a salamander with skulls all over its body — not an actual species that we know of. Of course, plenty of snake tattoos didn't bear any resemblance to an actual snake, but they were still entered into the running.
Advertisement
Cash Prizes!
Entries will be judged by the REPTILES editorial staff, and there will be first-, second- and third-place winners.
• First place wins $200.
• Second place wins $100.
• Third place wins $50.
The winning photos will be published in the August 2012 issue of REPTILES, and they will also be featured on the magazine's website, ReptileChannel.com. Winners receive their checks in August 2012, as well. Runner up photos may appear in the magazine or on the website, as well (sorry, no payment will be made for these).
Contest Deadline
All entries must be received by April 1, 2012. They become the property of REPTILES magazine and cannot be returned. With the return of the REPTILES Tat Attack contest, I'm really looking forward to seeing the latest crop of great herp inspired tattoos! Good Luck!
–Russ Case, Editor, REPTILES magazine and ReptileChannel