Check out the entries and winners for the REPTILES magazine Tat Attack! contest.
Our call for herp tattoos was impressively answered. We received more than 200 entries for the Tat Attack! contest, and once again, it was really hard to pick the winners. But here they are, and I hope you'll agree that these tats are deserving of praise from herpers (and anyone who likes a good tattoo) everywhere.
This year we have a tie for third place, an indication of how hard it was to choose the winners. When we were making our picks, editors remained firmly divided on the third-place choice. We went back and forth so much, making our arguments for the ones we liked, that finally I decided we'll give the prize to both.
Advertisement
Owen Tardi-Richards, our first-place winner with a tattoo of an emerald tree boa, will receive a check for $200. Chuck Gochnour and his "chameleony" shoulder gets $100, and John Walker and Chris Walsh each get $50 for their tats. Gentlemen, your checks will be in the mail shortly.
Thanks to everyone who entered — we were very impressed with your ink. We've included some submissions here along with the winners.
— Russ Case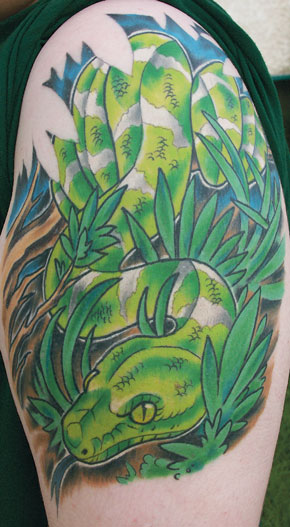 1. Owen Tardi-Richards
Winnipeg, Manitoba, Canada
"This tattoo of an emerald tree boa was inspired by an emerald in my collection that originally belonged to a friend. It was dying from internal parasites. He did not want to pay any medical bills, so he gave the snake to me. I took it to the vet for treatment, and he's way better: free of parasites and eating regularly."
Advertisement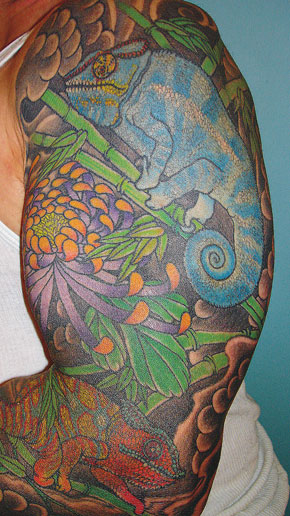 2. Chuck Gochnour
Berlin, Md.
"These tats are based on two of my panther chameleon breeders. I use a Japanese background on all my tattoos, and I am planning another with a reptile-related theme on my back in the future."

Advertisement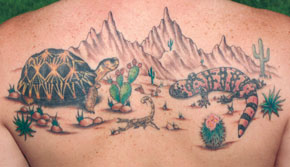 3. John Walker
Cedar Rapids, Iowa
"I have collected and kept reptiles as pets for my whole life. A year ago I decided to have a desert scene with two of my favorites tattooed on my back: a radiated tortoise and a Gila monster."
Advertisement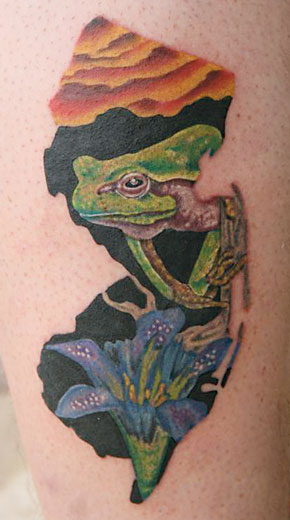 4. Chris Walsh
Barnegat, N.J.
"My tattoo is of New Jersey, the state where I was born and raised, along with a native purple gentian flower and the Pine Barrens treefrog, an endangered frog species found in New Jersey. It is located on my right outer calf."