Sponsored by the National Reptile Breeders' Expo and ShipYourReptiles
10 winners will get a free spotted pond turtle (Geoclemys hamiltonii)!
If you're a turtle fan attending the National Reptile Breeders' Expo (NRBE) in Daytona Beach, Fla., on August 18 or 19, stop by the REPTILES subscription booth to enter our special raffle for a chance to win one of 10 spotted pond turtles (Geoclemys hamiltoni) provided by Mr. NRBE himself, Wayne Hill!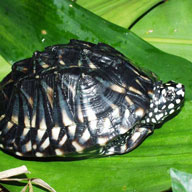 Ten winners will get a free spotted pond turtle (Geoclemys hamiltonii)!
Advertisement
No purchase is necessary to win a turtle. Just follow these simple steps:
1. Read the rules paragraph at the bottom of this page.
2. Stop by the REPTILES booth at the National Reptile Breeders' Expo between 10 a.m., Saturday, August 18 and 3 p.m., Sunday, August 19.
3. Fill out a raffle entry form at the booth (one per person).
4. Soon after the Sunday 3 p.m. entry deadline, 10 winners will be chosen at random and their names will be posted at the REPTILES booth.
5. Before the end of the show at 5 p.m. on Sunday, winners must visit the REPTILES booth and show a picture I.D. in order to receive a ticket, which they will exchange for their free turtle.
6. Winners will take these tickets to Wayne Hill's booth in the Turtle Island area, where they will exchange them for their turtle.
7. After receiving their turtle, winners have the option of visiting the ShipYourReptiles booth to arrange FREE SHIPPING of their new pet to anywhere within the domestic U.S. after the show.
Not only do you get a shot at winning a beautiful spotted pond turtle for free, from Wayne Hill, one of the country's leading breeders of this species, but you can also have your new turtle shipped hassle-free right to your front door for free, courtesy ShipYourReptiles! What more could any self-respecting turtle enthusiast want?
PLEASE DO NOT ENTER THIS RAFFLE UNLESS YOU ARE CERTAIN YOU WILL BE ABLE TO PROVIDE A TURTLE WITH THE PROPER CARE SHOULD YOU WIN. The spotted pond turtle is a CITES Appendix I species and is classified as endangered. It gets fairly large and can live for more than 20 years in captivity. Read the ReptileChannel spotted pond turtle care sheet by Russ Gurley for spotted pond turtle care tips and other important information about this species.
Advertisement
If after doing so you're ready to provide a great home to a spotted pond turtle for many years to come, then enter the REPTILES Daytona Turtle Giveaway, and good luck to you!
RULES: Raffle entrants must be at least 18 years of age and a resident of the United States. Employees of the National Reptile Breeders' Expo, ShipYourReptiles and BowTie Inc. are not eligible to enter the raffle. Winners who do not visit the REPTILES booth by show's end on Sunday, August 19, or who otherwise do not allow time to fulfill the steps listed above, or if they misrepresent themselves in any way, may be disqualified and forfeit their turtles. BowTie Inc. and REPTILES magazine are not responsible for ensuring that contest winners receive their turtles. This is the responsibility of the winners and the contest sponsors.