Are you lucky enough to have a reptile store near you?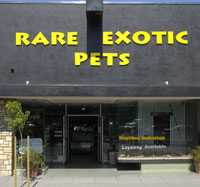 Reptile and exotic specialty pet stores are on the front lines of the hobby.
One of my recent blogs was about the reptile houses in zoos, so it seemed logical to devote a subsequent blog to reptile stores. If not a zoo, a pet store is often going to be the first place children see live reptiles. That puts stores on the front lines of the hobby. A great reptile store – or a "standard" pet store with an excellent reptile department – can go a long way toward capturing the attention of kids and nourishing an interest in reptiles and amphibians. That's obviously important if the reptilekeeping hobby is to continue into the eons (or even further!).
When I was a kid there were no reptile specialty stores anywhere near where I lived. I've written before about how my eyes to the world of pet herps were really opened wide once I moved to California in 1970. Before that I had a lot of exposure to wild herps in the New Jersey woods near my home, and I'm sure there must have been isolated encounters with anoles and maybe red-eared sliders in local pet stores. When I moved to California, though, I saw many more reptiles in pet stores and aquarium stores than I was used to seeing. Different types of snakes and lizards, and what really impressed me (aside from the desert iguanas, which were a subject of a past blog) were the varied kinds of baby turtles I encountered. If I remember the name correctly, there was a fish store called Aquarium Imports in Topanga, Calif., which was one my brother Rob and I would frequent that stocked a lot of turtles. There were red-eared sliders, of course, but also different types of painted turtles, map turtles, side-necked turtles and others. These were all new to me (and map turtles were a definite early favorite).
I could imagine how far out of my sockets my eyeballs would have shot had a store like, say, Prehistoric Pets, been around when I first landed on the West Coast years ago. I was delighted enough with the animals I saw, but compared to the variety of animals it is possible to see today, the selection was paltry. Still, it was enough to fuel my interest.
I started the "Reptile Retailer Spotlight" column in REPTILES magazine because I wanted to be sure people knew about as many reptile specialty stores as possible. Of course, I also wanted to help promote the stores. I've already written how important it is to the hobby's survival that children maintain an interest in reptilekeeping, and stores play a huge role in developing that interest. Therefore, as far as I'm concerned, the more reptile-specific stores there are the better!
Prehistoric Pets is definitely a fine example of a reptile store. Located in Fountain Valley, Calif., owner Jay Brewer (himself an accomplished reptile breeder, with reticulated pythons a specialty) and his crew have really turned the shop into a local landmark. I'll stop in to wander occasionally, and the store is always crowded. Friends of mine who live in Fountain Valley (I used to live there) take their kids just so they can see the amazing animals. There are plenty of standard reptile enclosures, but in addition there's a large tortoise pen and a huge pond with basking turtles and fish. The variety of animals is truly impressive and covers pretty much every herp type, as well as tarantulas and other invertebrates. Jay also owns JurassicParties.com, an offshoot business that presents live reptiles for birthday parties (this appears to be a growing business sector in and of itself).
I'm most familiar with Prehistoric Pets because I live in the area, but I know there are other great reptile stores out there. If you're lucky enough to live near one I hope it's worth patronizing. Something else to keep in mind, too, is the fact that the people who work at reptile stores are often very knowledgeable about the animals. They can be an excellent resource if you purchase a reptile from them and have questions about its care in the future. If you're unsure whether or not a store is near you, break out the Yellow Pages and check (or look online of course…now that I think of it, in my life the Internet has pretty much replaced the Yellow Pages).
Remember to support your local reptile store!
Advertisement