Lodi, California exotic pet shop has something for everyone.
When you consider that husband-and-wife team Sam and Naomi Abdaljawad were both raised in herp-fearing households, it is a wonder that they each experienced a passion for reptiles at such a young age. For Naomi, it involved playing with snakes from the age of 3 years old on. Despite her mother's fears, her father gave her a 7-foot-long reticulated python for her 10th birthday and helped foster in her a love of nature.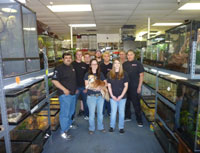 Advertisement
GBU Enterprises staff
Sam grew up in Jordan and Iraq, where sand vipers and other dangerous desert snakes are found. Yet, despite his parents' warnings and strict admonishments when he brought such creatures home, he grew up with a great appreciation for these taboo animals and went on to breed them.
You would think that their first meeting would be an instant camaraderie, but such was not the case.
Naomi was working for Bill Gillingham, the original owner of The Great Valley Serpentarium, when his friend Sam walked in for a visit. "I instantly took a great disliking to the guy, who had a rather colorful mouth," she said. But pretty soon that changed. "As he came in frequently, I found he actually had a good heart, regardless of what came out of his mouth, and we soon formed a friendship. I had kept reptiles as pets for over 30 years but was not a breeder. Sam took me under his wing, and with his friend Glenn Brooks, GBU Enterprises (for The Good, The Bad and the Ugly) was hatched in 2006."
At first, their business was run out of their homes, but eventually, Naomi's dream of owning an actual pet store became a reality. Glenn Brooks left the partnership for personal reasons, and Naomi and Sam continued on together. They even got married at the store. Today, their business spans more than 1,800 square feet in size, with 75 percent of that space dedicated to herps, and it includes fish and birds, as well.
"We can safely boast of having some of the rarest and most varied collection of animals in this area. Our clientele enjoy a very relaxed atmosphere, with iguanas walking down the aisles and birds landing on their shoulders. We specialize in rare and high-end reptiles and invertebrates, but we also offer something for everyone, with a full line of supplies, as well," Naomi says. "What we are known for is our insistence on education, ensuring the right fit for both companion animal and person. We want to be known for our caring and dedication to both our animals and customers."
Advertisement
As one Yelp visitor pointed out, "the whole shop is like Uncle Monty's house from Lemony Snicket." If you are in the Lodi area, stop by and experience the adventure for yourself.
Fun Fact
Naomi and Sam have worked with Animal Planet for the television series My Extreme Animal Phobia and take great pride in helping people get over their fear of herps.
Advice to New-Comers
"Research first! Then go with your heart. Never be afraid or too proud to ask questions. Nobody knows it all. Remember that we all started somewhere, and we are a community that needs to be cohesive and support each other."
400 E. Kettleman Ln., Ste. 12
Lodi, CA 95240
209-365-1922
GBUEnterprises.com
Advertisement